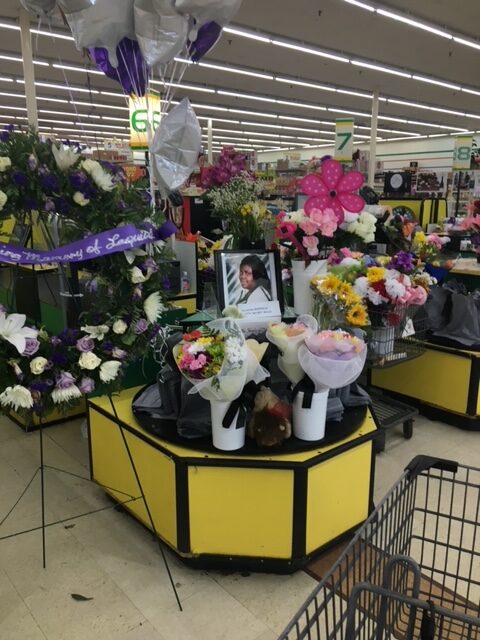 Photo above provided by Kenley Waller.
DECATUR, GA— Customers and employees at the Big Bear supermarket, 2849 Candler Road, have made a memorial of flowers to remember Laquitta Willis, the 41-year-old cashier who was killed in a shootout on June 14 around 1 p.m.

Authorities have arrested
Victor Lee Tucker, Jr., 30, charging him with Willis' murder.
Tucker got into an argument with the cashier after he was asked to pull up his face mask while inside the store, authorities said. Tucker reportedly walked outside to his vehicle and returned, pulled out a handgun and shot Willis and another cashier, who was grazed.
An off-duty DeKalb County Sheriff's deputy, who was working at the supermarket, intervened and exchanged gunfire with Tucker, who continued shooting. The deputy and the suspect were both hit during the shootout. Both have since been released from the hospital.
Tucker is facing charges of Murder and two counts of Aggravated Assault.  
A private funeral was held for Willis on June 21, 1 p.m., at Gregory B. Levett & Sons Funeral Home, 4347 Flat Shoals Parkway, Decatur. Willis had worked at the grocery store for 10 years, according to family members.