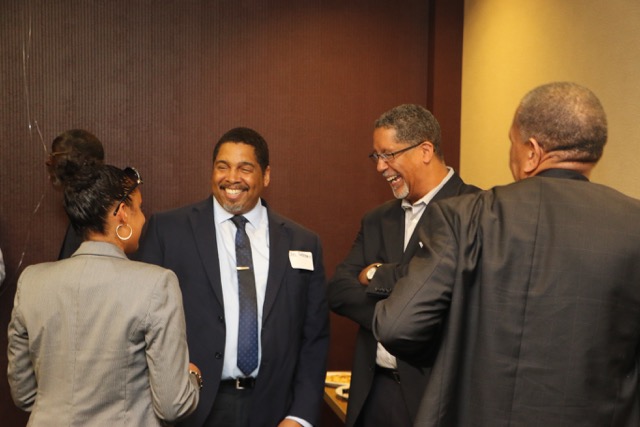 Jason Lary awoke this morning, on his birthday, with the best present ever: He is the first mayor of the new city of Stonecrest. Lary, who turned 55 today, galloped to victory in a three-way race on Tuesday night, defeating Charles Hill and Doug Favors.
Lary is hosting his first meeting as mayor of the city today at the Stonecrest Library, 6 p.m., with Leadership DeKalb's membership recruitment open house. Those who want to join the organization are invited to attend.
"I'm going to do everything that I possibly can in the city of Stonecrest," said Lary, who was excited but exhausted.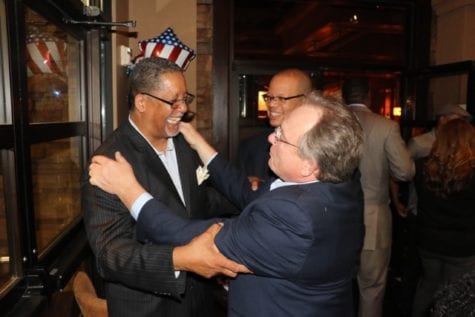 At last night's victory celebration, which was held at Arizona's restaurant in Stonecrest, Lary thanked his wife, Debbie, for standing by him "through all of the sleepless nights." He also thanked supporters for their dedication and hard work. A crowd surrounded him at the celebration, cheering for him.
The mayor's race turned ugly just days before the election after postcards were mailed to Stonecrest residents suggesting Charles Hill had mental health issues. Hill, who came in second in the mayor's race, found himself in the media spotlight refuting the mailer. His doctor confirmed that he does not have any mental health issues during a news conference, which was held on Monday. Lary said he had nothing to do with the mailer.
Lary said he would be sworn in as mayor as soon as the election results are certified within the next couple of days by election officials. He said a public swearing-in ceremony for him, Jimmy Clanton, who was elected for the District 1 City Council seat, and Jazzmin Cobble, who was elected for District 3, is being planned for later and details will be forthcoming.
Meanwhile, Stonecrest candidates running for District 2, 4 and 5 City Council seats are headed for runoffs. The runoff elections will be held on April 18. The candidates need 50 plus one to win.
Runoffs: Rob Turner will face Plez Joyner in District 2; George Turner will face Mary-Pat Hector in District 4 and Diane Adoma will face Tammy Grimes in District 5.
Here's a look at how the races stacked up (unofficial numbers, which must be certified):
City of Stonecrest Elections, All Races, All 16 Precincts
Ballots Cast 4,267 (13 percent)
Registered Voters 32,831
Unofficial and Incomplete
Mayor
Jason Lary 2,204 (52.20)
Charles Hill 1,664 (39.41 percent)
Doug Favors 342 (8.10 percent)
District 1
Jimmy Clanton 314 (65.97)
Charles Ross 156 (32.77 percent)
District 2
Rob Turner 184 (31.08 percent)
Plez Joyner   179 (30.24)
Alexis .Morris 150 (25.34 percent)
Gretchen Torbet 75 (12.67 percent)
District 3
Jazzmin Cobble 387 (66.15 percent)
Eric Hubbard     196 (33.50 percent)
District 4
George Turner       569 (37.98 [percent)
Mary-Pat Hector 439 (29.31 percent)
Geraldine Champion 118 (7.88 percent)
Jay Cunningham   187 (12.48 percent)
Jonathan Phillips 183 (12.22 percent)
District 5
Diane Adoma 511 (48.21 percent)
Tammy Grimes 427 (40.28 percent)
Lloyd Morrison 55 (5.19 percent)
Richard Stone 60 (0.66 percent)