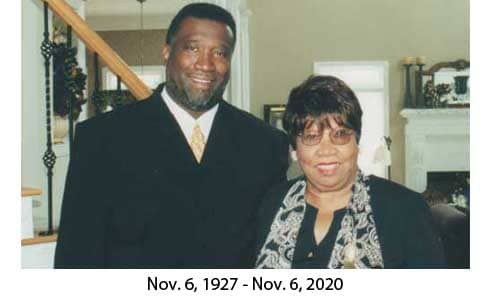 Josie Mae Summers, mother of On Common Ground News' Publisher Glenn L. Morgan, passed away today after a long illness. She died on her 93rd birthday in an Okeechobee, Florida nursing home where she had lived for over 10 years after suffering a stroke.
Mr. Morgan's older brother and sister-in-law, Mitchell and Jackie Summers, lovingly kept watch over "Mama Jo" during her stay at the nursing home.
Before her illness, "Mama Jo" frequently took trips from Arcadia, Florida, her hometown, to visit Atlanta, where she spent time with her son, Glenn, daughter-in-law Valerie, and their children, Myles and Mackenzie Morgan. Mama Jo "adopted" many of the kids who were friends to the Morgan family.
"She was always real sweet to me and always spoke confidence into me and I will always love her for that," recalled Jordan Frazier, one of her adopted "grand kids" who sent his condolences in a text to the family.
An excellent cook, Mama Jo enjoyed preparing for a few or a crowd. She baked delicious pies and cakes and coconut cream pie was one of Glenn's favorites.
Mama Jo loved shopping and accompanying Glenn and Valerie to various events in Atlanta. She would dress up and exclaim: "I don't know if I'm going to meet the Queen of England today or what. Y'all stay so busy, but I'm ready to go!"
Mama Jo also looked forward to going to church, where she always received a warm welcome from Bishop Gary Hawkins, Sr. and members of Voices of Faith Ministries. Glenn and Valerie have been church leaders at Voices of Faith for 25 years. Mama Jo never missed a Sunday at Voices of Faith whenever she visited Atlanta.
"What an amazing woman of God. God blessed her to live a long life," Bishop Hawkins said after learning of Mama Jo's passing.
Glenn and Valerie thank the community for its prayers and outpouring of concern and support. The family will announce the funeral arrangements for Ms. Josie Mae Summers when they are completed.