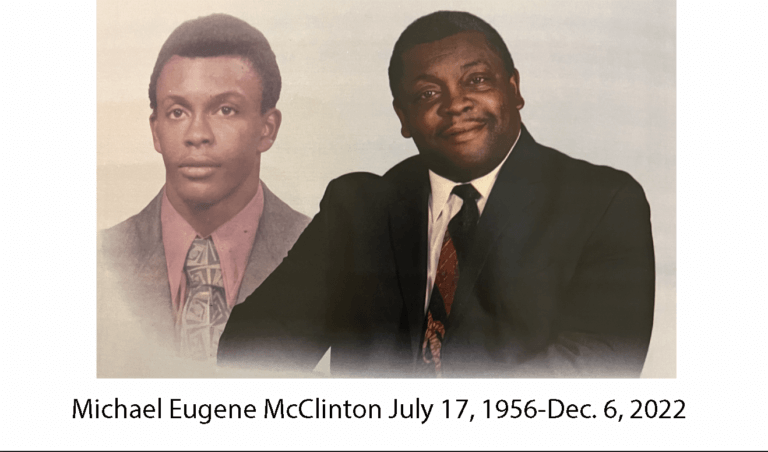 CONYERS, GA—Family, friends and dignitaries gathered on Saturday, Dec. 17, to celebrate the life of Michael Eugene McClinton, former owner of Robert's Soul Food restaurant, located in the city of Stonecrest. Mr. McClinton, 66, passed away on Dec. 5, after battling a rare form of cancer for a year, his family said.
Six-year-old Kennedi Ray, Mr. McClinton's only grandchild, stood out among the crowd of adults as the family entered the sanctuary for the homegoing service, which was held at Crawfordville Baptist Church in Conyers. Kennedi, wearing a navy blue dress and white cape, placed a love letter in the casket for "Papa," the man who often played with her in the backyard and watched over her as she did her homework at a table in the family's restaurant, where her grandmother, Marilyn, and her mother, Nikita Williamson, prepared soul food. In the letter, Kennedi told her grandpa that she loved him and drew a picture of herself and him with angels. The child's mother said Kennedi had talked about Papa going to heaven and playing with the angel children.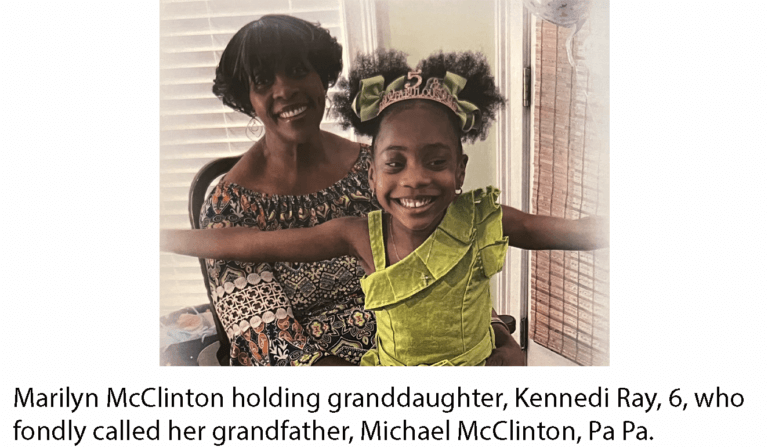 Pastor Jonathan O. Bennett, Sr., who officiated the celebration of life service and delivered the eulogy, said Deacon McClinton's life reflected the light of Jesus Christ and his heavenly Father in the love he showed to his family and others.
"He exercised family responsibilities. I tell you Deacon Mike looked like his Father because he was a husband and a father and he put his affairs in order so that they wouldn't have the burdens and struggles that some of us are still dealing with," Pastor Bennett said.
During the homegoing celebration, several speakers remembered Mr. McClinton as a "good man" who was a devoted family man; a deacon and Sunday School attendant who loved serving God; a community man who often gave away meals to those in need; and a Greenwood, S.C. native who moved to the metro Atlanta area and opened a restaurant that he named for his father, grandfather and brother, who were all named Robert.
The Rev. Dr. Robert Clinton III shared fond memories of his younger brother, Michael "Mike" McClinton, saying Mike was good at math, an inspiration to many and often was mistaken as his twin—even though Mike was three years younger.
"When we were growing up, many people thought we were twins. We looked alike. Mama dressed us a like, but for some reason, you all, he outgrew me," said Rev. Clinton, drawing laughter from the audience.
Others recalled Mr. McClinton as an athlete who earned the nickname "Lumberjack" at Greenwood High School, where he was a linebacker on the football team.
Rockdale County Commissioner Oz Nesbitt commended Mr. McClinton, a Rockdale resident, for making a difference and leaving a legacy in the community.  Nesbitt presented a proclamation on behalf of the Rockdale County Board of Commissioners to the McClinton family declaring Dec. 17, 2022 as "Mr. Michael McClendon Remembrance Day."
Stonecrest City Councilwoman Tammy Grimes also presented a proclamation to Mr. McClinton's family on behalf of the City Council and Stonecrest Mayor Jazzmin Cobble. She said she was shocked to learn of Mr. McClinton's passing and that he would be greatly missed. The councilwoman expressed how she was a fan of the restaurant and would continue to support the restaurant, under new management—Tony Royal, a close friend of Mr. McClinton.
The repast was was held at Robert's Restaurant following the homegoing service.
Michael E. McClinton was born on July 17, 1956 to his parents, Deacon Robert Henry McClinton, Jr. and Deaconess Lillie Mae Robinson McClinton. He was the second-eldest of four children. Mike accepted Christ at an early age and was devoted to the work of the Lord, serving faithfully in his church.
Mike graduated from Greenwood High School in 1974. He continued his education at Johnson C. Smith University in Charlotte NC, where he received his BS degree in Accounting.
After college,  Mr. McClinton moved to Atlanta and began his work life at General Electric. He soon decided to become an entrepreneur and launched many businesses including a snack food distribution business. He loved his wife's cooking to the point of encouraging her, along with their daughter, Nikita, to help him establish Robert's Soul Food, which the family operated for 23 years.
Mr. McClinton was ordained a deacon at Zion Hill aptist Church, where he was a member for over 20 years. He later joined Crawfordville Baptist, where he served as the church's Sunday School School Superintendent until his health failed.
Mr. McClinton leaves to cherish his memories his loving wife of 28 years, Marilyn Williamson McClinton; a stepdaughter, Nikita Williamson; a 6-year-old granddaughter, Kennedi Ray; an only brother, the Rev. Dr. Robert McClinton, Greenwood, SC; two sisters, Jacqueline "Jackie (Travis Sr.) Paul, Greenwood SC,  and Irma L. O'Banner (Keith Sr.) North Charleston SC;  and a host of nieces, great nieces, great nieces, nephews, great nephews, and cousins. Mr. McClinton was preceded in death by his father and mother, Robert Henry McClinton, Jr. and Lillie Mae Robinson McClinton; and a brother, Johnny Frank Davis.
Divine Mortuary Services and Funeral Home in Lithonia handled the funeral arrangements.
To watch the video of the Homegoing Celebration for Michael E. McClinton, click:
https://player2.streamspot.com/?playerId=69442645