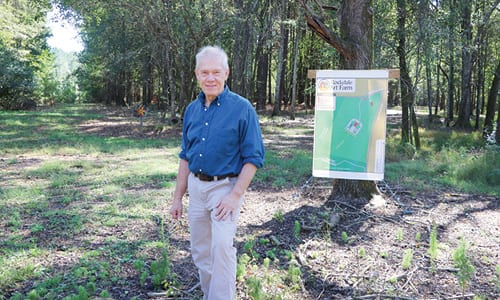 By Valerie J. Morgan
The Rockdale County Board of Commissioners gave its approval on Oct. 9 to grant a Special Use Permit (SUP) to Joe Eifred, paving the way for his nonprofit, the Rockdale Art Farm (RAF), to take root. RAF plans to offer a wide range of art programs on a former dairy farm located at 4420 Flat Bridge Road in south Rockdale near Union Church Road.
While proponents had expressed their excitement about having a place to enjoy arts education while connecting with nature, critics said they believed the project would bring noise and traffic, and dramatically change the character of the quiet area. The proposed project was caught in limbo for months as supporters and opponents expressed their viewpoints.         
"It's been a long road. I started last November talking to the planning commission and I ran into opposition with some members of the community who didn't really understand what I was trying to do," said Eifred. "I'm glad that it passed. I was surprised we didn't get a unanimous decision, but I'm just thankful that it passed."
 BOC Chairman Oz Nesbitt cast the dissenting vote on the three-member board. He did not state his reason for doing so.
 Commissioner Sherri Washington said she approved the SUP because she believes the project would be an asset to the community.
"It received community support and support from Arabia Mountain, Panola Mountain, the school district, and a variety of others," said Washington. "I think that it's an excellent way to preserve the land while providing some wonderful programs for the community and artists as a whole." 
Commissioner Doreen Williams agreed.      
 "I have always been a strong supporter of the arts and I am excited about this new opportunity for Rockdale County. The benefits of arts and culture are varied, including economic, social intellectual and personal," said Williams. "The Rockdale Art Farm will provide all of these. The location is beautiful and serene,"  Williams said.    
The SUP was approved with several conditions recommended by the county's planning staff including all restricting lodging at the camp for artists and those enrolled in arts programs for no longer than seven consecutive nights; outdoor activities ending by 8 p.m. and no fire pits. The camp will not be available for use as a public event facility. 
Planning and Zoning Director Kc KrzicKrzic said no changes can be made to the plans submitted. A new SUP would be required to change the plans.  
 Eifred said although construction of the facilities won't be completed until late 2019, the Rockdale Art Farm plans to begin initial programming in early 2019. 
 Rockdale Art Farm, he said, will be open to the public through memberships, which would run about $35 to $65 per month, and will include providing tools, equipment, space and guidance for the creation of hand-made pieces that are functional and artistic. 
"Think of RAF like a membership gym, but instead of having a bench-press, we have a drill-press," said Eifrid, a nature enthusiast and entrepreneur who has several artists in his family and circle of friends. .
A long-time resident of the area, Eifrid said he spent many years as co-owner of the popular Intown Ace Hardware in Decatur. He said he designed RAF to bring together his passions for art and nature with the community in mind. 
RAF plans to serve people of all ages, skill levels, economic means and physical abilities. The organization plans to partner with professionals to provide physical, occupational and wellness therapies and veterans support through art and creative tinkering.  The range of activities offered by RAF will be determined by demand, but early plans include opportunities for members to explore woodworking, metal-working, jewelry-making, painting, sculpting, drawing, bookbinding, pottery, photography and other pursuits. Opportunities for volunteers and community engagement will also be announced in the coming months, Eifrid said. 
The 27-acre property will remain largely forested with a small construction footprint, including a central facility and cabins for program participants. The south end of the property provides access to the Arabia Mountain PATH, a 33-mile paved trail that starts in Lithonia and passes through several state and county parks.  Along the entrance road, a large pollination garden is already being installed.  Although located in Rockdale County, RAF is also convenient to nearby counties of Henry and DeKalb.  
"I see [RAF] as a place to instill the art of good living – being connected to nature, being creative and productive, eating healthy, staying active and building a sense of community and connection with other people," Eifrid said.