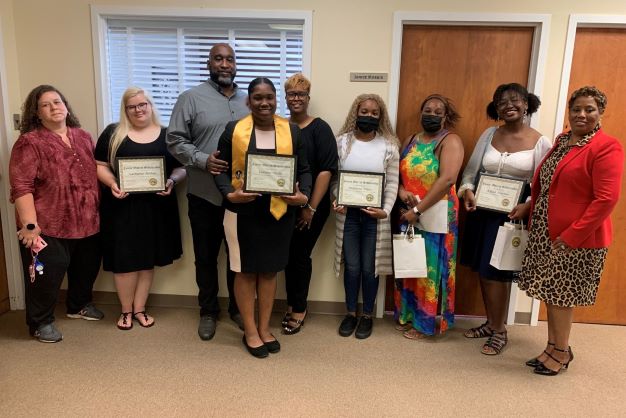 ROCKDALE COUNTY, GA– Four high school graduates of the Rockdale County School District have been named recipients of the inaugural Rockdale Clerk of Courts Janice Morris Scholarship. Each student won a $1K scholarship after writing an essay about overcoming adversity and their desire to pursue higher education.
The 2022 winners shared their experiences with bullying, being raised by a single parent,  coping with isolation, and navigating the COVID-19 pandemic as the virus disrupted the lives of family and friends.
" All of the students demonstrated a strong promise for succeeding in college and beyond in spite of what they had gone through," said Rockdale Clerk of Courts Janice Morris.  "I am delighted to honor these students and encourage them to continue pressing for higher goals and leadership roles."
The essays were scored based on criteria that included academic goals, barriers to persistence, organizational skills, and writing mechanics.
Morris said she established the U.N.D.E.R.D.O.G.S. task force team—Unwavering Neighbors Demonstrating Exceptional Resilience and Dominating Obstacles for Ground-Breaking Success—to score the essays. The team was comprised of five clerks in her office who themselves overcame adversities on their path to success.
The essay winners selected for the $1K scholarship came from Rockdale's four public high schools: Heritage High, Rockdale County High, Rockdale Magnet and Salem High.
Morris said that 51 students in total submitted essays for the contest.
The winning recipients are:
Natavia White, who graduated from Heritage High School and was accepted into The Art Institute of Atlanta.
Katlynn Patton, who graduated from Rockdale County High School and was accepted into in the Pre-Nursing program at Georgia State University.
Nylah Ductan, who graduated from Rockdale Magnet School and has been accepted into Columbia University.
Iyanna Smith, who graduated from Salem High School and has been accepted into the University of West Georgia.
Morris said the scholarship winners must perform five hours of community service as a condition for receiving the scholarships
"We want them to be active and give back to the community. They can do a community service project during their college break," Morris said.
Applications for the 2023 scholarships will be accepted starting in August for the class of 2023. More details will be announced when they become available.
Photo cutline: Rockdale Clerk of Courts Janice Morris (far right) and the U.N.D.E.R.D.O.G.S. task force team presented the scholarships at the Rockdale County Courthouse.