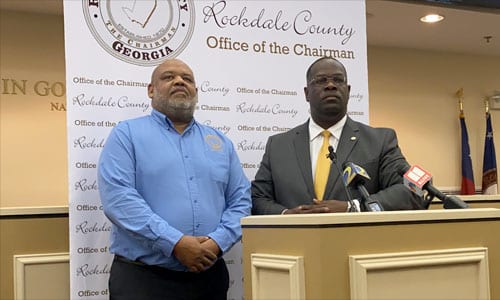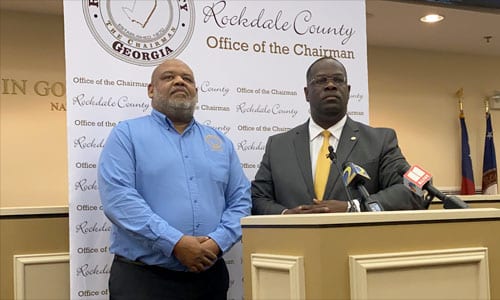 Rockdale County officials announced at a news conference today that the county is aggressively responding to a ransomware attack on the government's computer network. County officials said they have contacted the Georgia Technology Authority, GBI, Homeland Security and other federal agencies regarding the attack, which took place last Friday and has paralyzed the county's ability to accept water bill payments for now.
"Rockdale County is in a very critical state with the ransomware attack…  We don't take these ransomware attacks lightly at all. This is a major interruption to the productivity of Rockdale County and all hands are on deck," Rockdale Board of Commissioners Chairman Oz Nesbitt, Sr. said.  "We're doing everything we can to mitigate the problem."
Nesbitt stressed that the attack has not impacted public safety, including the county's 911 emergency system.
"Public safety is No. 1 and it is completely under control," Nesbitt said. He said the public is still able to call 911.
The county went into an emergency mode last Friday after a county employee opened an infected e-mail attachment that contained spam material. All of the county's computers, including the Rockdale Sheriff's Office, 911 emergency services and court systems, share the same computer system but the county's quick intervention prevented a complete shutdown of key operations, officials said.
Officials said the biggest impact has been on the county's inability to process the water bill payments. The county has 28,000 water bill customers. Officials said that customers' personal information, including credit cards used for payments, was not compromised during the attack.
Nesbitt said the county has dealt with one other cyber attack—in May 2017, when the county was completely shutdown about a week and a half as a result of the infiltration from an outside source.  Nesbitt said that luckily, that attack happened  during a holiday weekend and the county was able to mitigate the problem.
No ransom was paid in 2017 and no ransom has been paid in the most recent attack.
"At this juncture, there's been no request for payment… As it stands now, everybody that we have spoken to said there is less than a 50 percent chance that if we were to pay,  we would get a satisfactory result,"  said Al Yelverton, Rockdale's director of  technology, who came aboard in December 2017 after the county's first cyber attack. He said Rockdale experienced an unusual network of activity on Friday. There were multiple attempts to access the network.
The county is providing an indefinite grace period for water bill payments as it works to mitigate the situation, County spokesman Jorge Diez said.
The county cannot accept any water bill payments currently but will notify the public once the grace period has ended through social media and traditional media, Diez said.
"If your water bill is due now, you don't have to worry about it for now and you will not be charged late fees once we get the system back up," Diez said.
The county is stepping up its training and education for county employees concerning e-mails.  Nesbitt said he wants to make sure that employees do not unknowingly open emails that appear to be official county business or other sources that may not be legitimate.
"Oftentimes, these attacks occur with very innocent-looking postures but there's often a link associated with these e-mails and an employee without knowing can easily click on that link and really create a world of problems for our operations here in Rockdale County," Nesbitt said.
"We have had an interim briefing with all of our leadership and county directors this morning. As we speak, the information is moving throughout our internal operations to our employees to make sure they are alert and aware going forward (in terms of closely monitoring e-mails)," Nesbitt said. "Our goal is to be proactive rather than reactive."
Up to nine of the county's servers were impacted last week by the infected email, which was sent from an outside source, officials said.  All of the county's computers, including the Rockdale Sheriff's Office and court systems, share the same computer system.
Rockdale joins several municipalities that have been affected by the rising number of ransomware attacks including most recently the cities of Duwoody and  Atlanta.