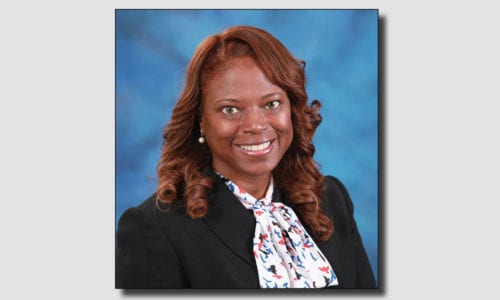 Seven Rockdale County poll workers have tested positive for COVID-19, forcing elections officials to seek a court order consolidating the number of precincts from 16 to 4 to ensure that enough workers are available for the Jan. 5 runoffs.
During an emergency virtual meeting today (Dec. 29), Rockdale Elections Director Cynthia Willingham reported the grim news that seven of the 30 poll workers overseeing advance voting at the 1400 Parker Road precinct have contracted the virus. She said one of the workers is asymptomatic, presenting no symptoms of the virus. The positive test results were reported on Monday, Willingham said.
Meanwhile, the Board of Elections agreed to ask a judge to authorize consolidate precincts on Election Day.  Willingham said under the consolidation plan, about 100 workers would be needed rather than 200. Judge Robert Mumford must make a ruling on the proposal, Willingham said.
The four precincts that are proposed to be open are Bethel, Springfield, Old Town and Parker Road. Voters would be able to cast their ballots at any of the four sites on Election Day, Willingham said. All of the precincts would be open an extra 30 minutes later and signs would be posted at all of the precincts throughout Rockdale notifying voters of the changes if the court order is approved.
Willingham said staff members are dealing with the situation as best as they can and hope that Judge Mumford would make a decision quickly.
"Our elections workers are very worried about being able to continue to work, especially in an area where the virus cases are high," said Willingham told the board.
Willingham cited statistics released just ahead of the Christmas holiday by Rockdale County's Emergency Management Director Dan Morgan. He said Rockdale remains in the "High" category of COVID-19 cases with  692 new cases  in the past 21 days, up from 593 cases a week ago. stated.
Morgan said that Rockdale is averaging 34.9 cases per day—up from 33.5 two weeks ago. Rockdale has had a cumulative total of 3,298 reported COVID-19 cases since Georgia officials declared a public health emergency in March. To date, 68 people in Rockdale have died from COVID-19, Morgan said.
Willingham said Rockdale isn't the only county where elections workers have been impacted. She said poll workers in Gwinnett, Richmond and Lee counties also have been impacted by COVID-19.