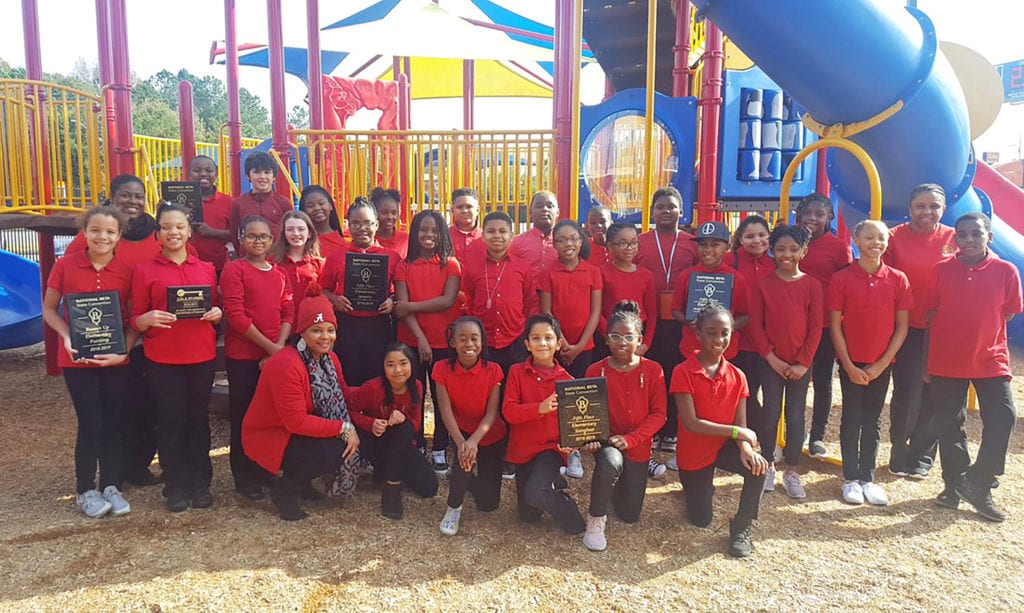 The D.L Sims Elementary School (SES) Junior Beta Club in Rockdale County won six awards at the Junior Beta Club State Convention in Savannah Nov. 28-30.
The following awards were presented to Sims:
Painting—second place (Grace Prince)
Technology—fourth place (Magic Boyd and Timothy Harvey) Performing Arts—fifth place (V'nai Edmead, Dani Donald, Chance Sanford, Samaya Williams, Karleigh Prince, Makyaii Walker, Ty Mortimer)
Songfest—fifth place (all scholars)
Jewelry—fifth place (Taylor Holmes)
Gold Key Award 10 Percent Growth (all scholars)
SES also achieved the honor earlier this year of being named a National Beta School of Distinction.
The SES Junior Beta Club sponsors are teachers Wendy Thomas and Shalaiwah Neil (pictured with the 2018-2019 National Beta School of Distinction banner). The club also has support from Betty Saylor, Shirelle Graves, Tennille Madden, and Charlotte Walton.
Club members (pictured with SES Principal Shavon Beckett) are Sydney Andrews, Talia Barron, Magic Boyd, Cameron Brown, Jayla Brown, Jeniah Bussey, Ashton Chambers, Dani Donald, V'nai Edmead, Makyaii Walker (Hunnicutt), Henry Leonard, Hsee Moo, Ty Mortimer, Karleigh Prince, Chance Sanford, Simari Scott, Trenton Smith, Samaya Williams Taylynn Barron, Chloe Bridgeman, Izabelle Downam, Timothy Harvey, Taylor Holmes, Morgan McCoy, Elisha Moore, Faye Moore, Grace Prince, Ethan Ramos, Exavier Smith, Kailyn Walker.
Established in 1934, The Beta Club is the nation's largest independent, non-profit, educational youth organization. They focus on developing achievement, character, leadership and service in today's youth. Junior Beta Club includes grades 4-8 and Senior Beta Club includes grades 9-12. For more information please contact Wendy Thomas at wdavis@rockdale.k12.ga.us or visit www.betaclub.org.