SeaQuest spreads holiday cheer to the Jackson family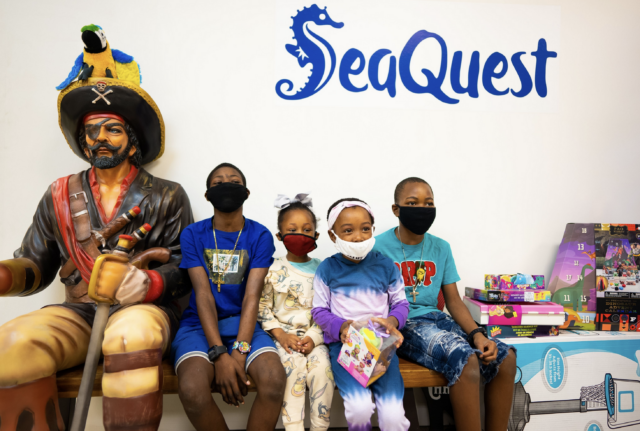 Stonecrest, GA –A 10-year-old boy who was shot in the face in a drive by shooting in early December was given a Merry Christmas, compliments of SeaQuest Stonecrest – an interactive aquarium known as the ultimate land and sea adventure.
Georbrand Jackson, a student at Murphy Candler Elementary school, lost two teeth and part of his jaw in the Dec. 3 attack, which is still under investigation. DeKalb County Police said someone fired two rounds around 8:10 p.m. into the Jackson family's home, which is located in the 4200 block of Chestnut Lake Avenue, striking the child. The shooting left Georbrand traumatized and afraid to go outside.
SeaQuest wanted to do something special for the holidays and invited the family to visit on Dec. 26. Georbrand mustered up the courage to accept the SeaQuest invitation and was joined by his mother, two younger sisters and younger brother at the interactive aquarium located in The Mall at Stonecrest.
SeaQuest officials and  their supporting  partners (including Stonecrest Festival and Stonecrest Resorts) provided Georbrand and his siblings with a fun-filled day at the aquarium where they shared laughs and petted the stingrays and sharks. Then, officials presented the group with Christmas gifts that included a Mr. Potato Head, a Chrome Notebook, a basketball goal and other goodies.
"It was the most gratifying feeling that we were able to ease some of the physical and mental pain this traumatic event has had on this young boy. He is courageous and strong. We can all learn and be inspired by Georbrand," said Grant Williams, III, General Manager of SeaQuest at Stonecrest.
"What was important for us, here at Stonecrest Resorts and SeaQuest, is that we showed we are real community partners. Once we heard about the tragedy that happened to one of our neighbors, leading up to the Christmas holiday, we felt there was an opportunity to bring a little holiday magic to what was surely a dark time in this young boy's life," said Vaughn Irons, Principal and Developer at Stonecrest Resorts.
Brandy Jackson, Georbrand's mother, is thanking God that her son is alive and recovering from the shooting. She is grateful that SeaQuestuest provided such an awesome experience for her children and thanks all of those who partnered to make the day possible.
"As a mom, it feels good. It was God who brought my son through it all," said Brandy Jackson.
Jackson said Georbrand is still facing more intense medical treatment for his injuries. The incident remains unsolved and authorities are still searching for the shooter.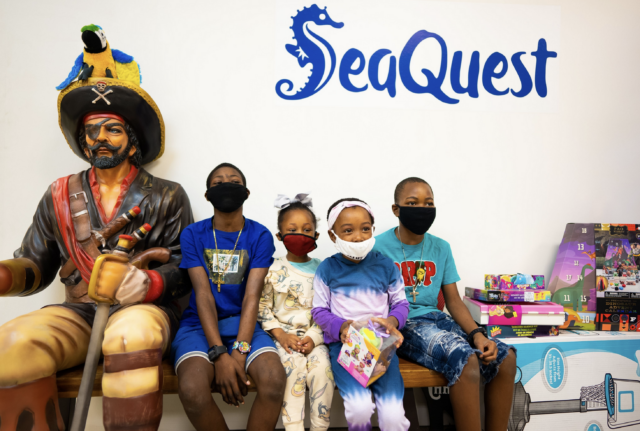 The Jackson children pictured left to right: Jy'nerion Jackson 12; D'zyia Jackson 5; Ny'Rey Jackson, 4; and Georbrand Jackson, 10. Photo provided by SeaQuest.