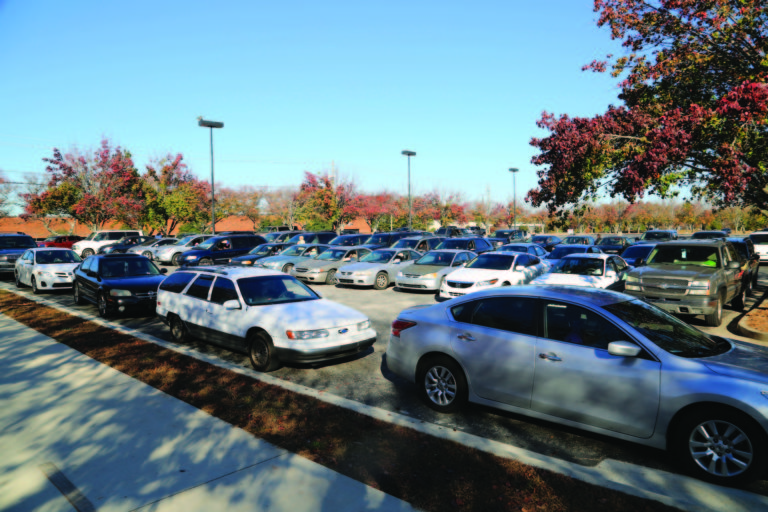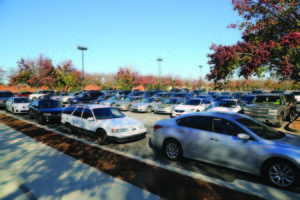 It took a small army of volunteers to unload the trucks filled with food, beverages and household products for the drive-through mobile pantry in Rockdale County, a week before Thanksgiving Day. The grocery bags and boxes that volunteers assembled for those in need contained not only food, but in some cases, cough drops and other medicines and small gifts such as headsets.
The free event was hosted by the Resource Center for Community Action, Inc. (RCCA) at the county annex parking lot, which is located at 1400 Parker Road in Conyers. The food was given out on a first-come, first-served basis and was one of the first such initiatives in metro Atlanta to get under way this holiday season.
"This effort impacts about 300 families but serves about 2,000 people when you consider the number of people are in each individual family served," said Siddiya Swift, who runs the RCCA. "We are thankful to be able to help others and show our continued support."
This year, the RCCA, which provides free food and other assistance for needy residents in Rockdale and Newton counties, received some help for its Thanksgiving food give away from the mayor of Lovejoy. Mayor Bobby Cartwright, who owns a farm in Lovejoy, donated several pallets of collard greens, Swift said.
"RCCA worked with another nonprofit to host a mobile pantry in Lovejoy and the mayor and other county officials were so pleased with the work that we did in Lovejoy that he decided to donate greens from his farm to us for our Rockdale event," said Swift. "I just thank him so much for giving back to another community."
While the RCCA assisted families, Rockdale County's Chairman-Elect Oz Nesbitt prepared to assist senior citizens with his own annual giveaway. Nesbitt held a turkey drive in collaboration with Courtesy Ford, located at 1636 Dogwood Drive in Conyers. The dealership served as the drop-off point for turkey donations going to about 200 seniors during a giveaway on Nov. 20, 3 p.m., at the Olivia Haydel Senior Center, 1240 Dogwood Drive in Conyers.
"There is much to be thankful for and I am grateful to the people who make all of this come together for our seniors," said Nesbitt. "It feels great to be giving away turkeys again this year."
Nesbitt said he hopes to be able to give out at least 200 turkeys.
Meanwhile, in DeKalb County, Greater Piney Grove Baptist Church, 1879 Glenwood Ave., Atlanta planned to give away 500 Thanksgiving baskets on Nov. 19, from 9 a.m. to noon. The church is hosting a shoe drive collecting gently-worn shoes for Haiti during the food basket giveaway.
The Women in DeKalb NAACP and DeKalb Commissioner Larry Johnson will give away free turkeys on a first-come, first-served basis on Saturday, Nov. 19, 11 a.am. to 2 p.m., at the Gallery at South DeKalb Mall parking lot, 2801 Candler Road, Decatur.