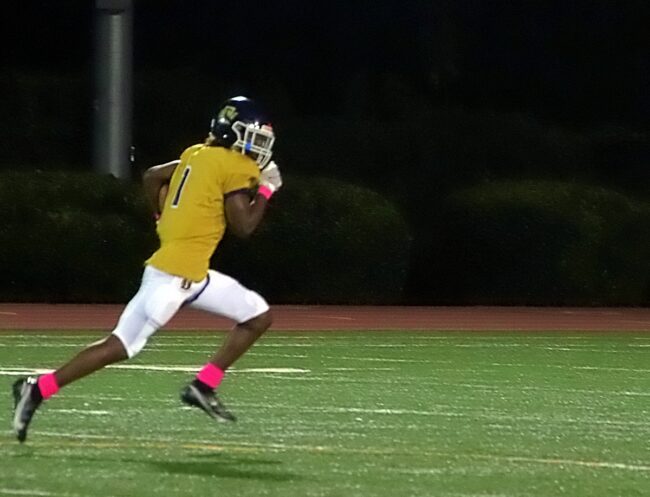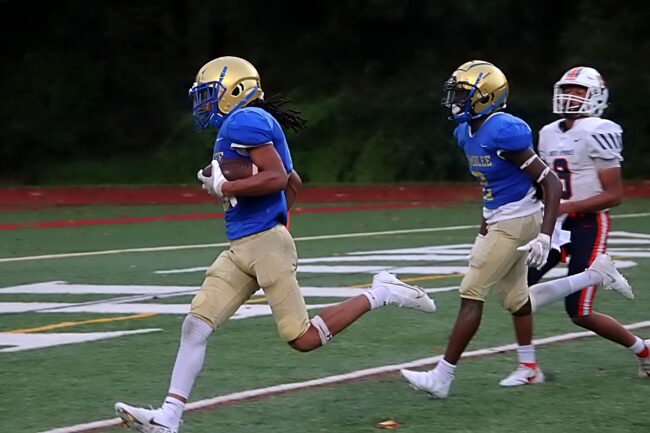 Six DeKalb County teams are locked into the high school football state playoffs next Friday and Saturday after this past weekend's action that included big wins by Southwest DeKalb, Lithonia and Chamblee to end the regular season.
Southwest DeKalb secured the No. 2 seed out of Region 5-5A with a 66-0 rout of Northview on Friday night at Hallford Stadium as seven different players scored touchdowns.
Billy Johnson ran for a pair of touchdowns and Wesley Brown scored twice on defense on a fumble return (21 yards) and a pick-six (36 yards). Sabian Campbell accounted for two touchdowns with a rushing touchdown and a 48-yard touchdown connection with Armond Davis.
Other scores for the Panthers included TJ Alexander (28-yard fumble return), Caleb Kenard (80-yard run), and touchdown runs by James Carswell and Isaiah Scott.
The Panthers (6-4) host Blessed Trinity on Friday night at 7:30 pm at a site to be determined.
In other Region 5-5A play the Lithonia Bulldogs (4-6) clinched its first playoff berth since 2019 with a 20-14 win over DeKalb rival Martin Luther King Jr. (2-8) at "Buck" Godfrey Stadium on Friday night. Lithonia has won four consecutive games after an 0-6 start.
The Chamblee Bulldog seniors are not going to the playoffs but ended the season on a big note with a 52-7 win over Berkmar to finish 9-1. It is the best finish since the Bulldogs went 12-2 in 2007 and reached the state semifinals.
Chamblee's Fabian Walker got his name in the DeKalb County record book with his 223 yards passing and three touchdown passes as he went 12 for 18 on the night. Walker, a junior, moved into third all-time in passing touchdowns with 35. He also moves into 12th in passing yards in a season with 2,275 yards on the year.
Jameel Avery was on the receiving end of two of Walker's passing touchdowns and added one rushing. Jordan Thornton caught seven passes for 128 yards and touchdown.
Sadyk Ross picked up his sixth score on defense with a 79-yard pick-six while adding six tackles. Ross has three over touchdowns defensively and a pair of safeties on the year. Jacari Waller-Watkins finished the night with another great performance on defense as well as he collected 12 tackles.
The Chamblee seniors finished 0-10 as freshmen and 1-8 as juniors before finishing 5-1 last year.
Other teams making the state playoffs include Miller Grove (6-3, No. 4  6-4A), Cedar Grove (7-3, No. 1 5-3A), Columbia (7-3, No. 3 6-2A) and Tucker (2-8, No. 4 4-6A).
DCSD FOOTBALL – WEEK 12 RESULTS
Thursday, 11/4/21
HALLFORD STADIUM
Lakeside (3-7) 33, Clarkston (2-3) 0  
Friday, 11/5/21
ADAMS STADIUM
Therrell (2-8) 6, McNair (0-9) 0
AVONDALE STADIUM
South Atlanta (9-1) 36, Columbia* (7-3) 32
Washington (5-4) 40, Towers* (3-7) 12  
"BUCK" GODFREY STADIUM
Lithonia (4-6) 20, M.L. King (2-8) 14, 7:30 pm  
HALLFORD STADIUM
SW DeKalb* (6-4) 66, Northview (2-8) 0  
NORTH DEKALB STADIUM
Chamblee (9-1) 52, Berkmar (0-10) 7
Duluth (5-5) 44, Dunwoody* (3-7) 14  
AWAY GAMES
Sandy Creek (9-1) 40, Cedar Grove* (7-3) 35
Hapeville Charter (5-5) 26, Miller Grove* (6-3) 7
Greater Atlanta Christian (4-6) 45, Redan* (2-8) 18 
Westlake (8-2) 34, Tucker* (2-8) 10  
Season Over: Arabia Mountain (3-7), Cross Keys (0-6), Druid Hills (0-9), Stephenson (5-4), Stone Mountain (4-6)
Mark Brock is the Athletics Specialist for the DeKalb County School District (DCSD).