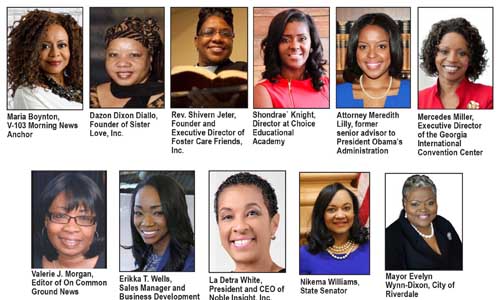 Real Women Atlanta Magazineand myEcon, Inc. will present "Still We Rise," a black tie/red carpet eventhonoring 11 local black women who have given tirelessly to help their communities.
The event, which commemorates the 1619 National Celebration of Black Women and celebrates Women's History Month, willbe held on Saturday, March 9, 6 to 9 p.m., 173 14thSt. N.E., Atlanta.
Hosted by V103'sAmanda Cooper and Joaquin Thompson, Daily Breadradio show. The event will be a night of music, poetry, comedy and more in celebration of the beauty and strength of the Black woman.
This year marks the 400th-year commemoration of the arrival of African captives at the shore of Jamestown, Virginia in the year 1619. The 1619 National Celebration of Black Women was born out of a necessity to recognize the women in history that emerged from slavery, defied the odds and came out victorious.
The women who will be honored at the "Still We Rise" event are:
Maria Boynton, Anchor V-103 Morning News
Dazon Dixon Diallo, Founder of Sister Love, Inc.
Rev. Shivern Jeter, Founder and Executive Director of Foster Care Friends, Inc.
Shondrae` Knight, Director at Choice Educational Academy
Attorney Meredith Lilly, former senior advisor to President Obama's Administration
Mercedes Miller, Executive Director of the Georgia International Convention Center
Valerie J. Morgan, Editor of On Common Ground News
Erikka T. Wells, Sales Manager and Business Development Consultant at Audi of America
La Detra White, President and CEO of Noble Insight, Inc.
Mayor Evelyn Wynn-Dixon, City of Riverdale
Tickets for the celebration are $30 and are available at realwomenatlanta.com. No tickets will be available at the door.