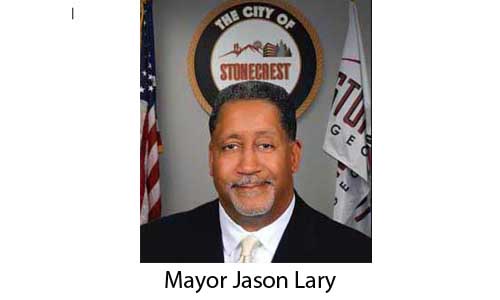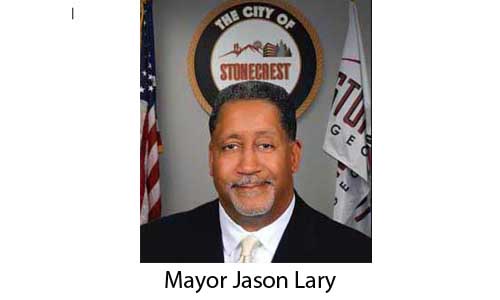 ATLANTA—City of Stonecrest Mayor Jason Lary, Sr. appeared in federal court on Wednesday (Nov. 10) along with Lania Boone of Decatur to face charges related to the alleged misappropriation of $6.2 million in CARES Act funds the city received in 2020.
Lary, 59, was charged with three counts: Wire Fraud, Conspiracy and Federal Program Theft during the first appearance hearing in Atlanta this morning before Magistrate Judge Regina Cannon.
Boone, a bookkeeper who was hired to disburse the city of Stonecrest's relief funds, was also charged at the hearing with conspiracy to steal relief funds. Boone, 60, was accompanied at the hearing by her husband, Clarence Boone, the city's former economic development director who was dismissed by the city after an internal investigation conducted by City Attorney Winston Denmark into Relief Funds scheme.
Attorney Dwight Thomas, who is representing Lary, said the court set signature bonds for Lary and Boone, restricted their travel to the state of Georgia, took their passports and prohibited them from having any contact with witnesses or victims as it relates to discussing the case.
The mayor was released by lunch time but declined to be interviewed.
"Their lawyers can discuss the case, but they can't," Thomas told On Common Ground News.
Thomas said the case has been assigned to U.S. District Judge Thomas W. Thrash, Jr. He said Judge Thrash would hear whether Lary pleads guilty or not guilty when the time comes and decide whether there will be a trial or sentencing.
"I do not expect that there is going be a jury trial in this case," said Thomas. "My client is expected to be very cooperative throughout the remainder of this matter and not a distraction to the city's government. Right now, we're waiting for the next court date. We'll go in at that time and hopefully, we will have finalized some sort of resolution of the case. "
Thomas said that Lary currently remains the mayor. Lary attended the virtual meeting of the Stonecrest Housing Authority on Wednesday.
Federal investigators' 16-pagel "criminal information" document (No. 1:21-CR-437) in the "United States v. Jason Lary" focused on the three charges Lary is facing. The document  states that Lary and Boone conspired to embezzle and steal Relief Funds to pay off a $108,155.52 mortgage on a lakefront home owned by Lary and spent more than $7,000 of the Relief Funds for Boone's child's college expenses.
The document states that the kickback scheme included entities that Lary and others used to defraud Relief Funds recipients of more than $650,000 by directing them to give back a portion of their grant money.  The entities included Visit Us, a nonprofit to promote tourism in Stonecrest; Battle Ground Media; and Municipal Resource Partners Corporation, Inc.
The document, which some have referred to as an indictment, states that "LARY falsely represented to businesses and churches that they were required to contribute a portion of their Relief Funds to entities identified by LARY. LARY did not tell the businesses and churches that he controlled and had a financial interest in these entities."
"…It was also part of the scheme and artifice to defraud that LARY concealed and attempted to conceal the scheme by publicly stating that no Relief Funds had been stolen, and by creating the false appearance that the entities used by LARY to execute the scheme were legitimate."
The City of Stonecrest issued the following statement on behalf of Mayor Pro Tem George Turner and Councilmembers Jimmy Clanton, Rob Turner, Jazzmin Cobble and Tammy Grimes:
"Obviously, this is a solemn time in Stonecrest's history, as Mayor Lary is our first Mayor. We wish him and his family the best as they face these challenges. At the same time, the City of Stonecrest is committed to maintaining integrity in government and we fully support the U.S. Attorney's efforts to ensure that justice is carried out.
Because Stonecrest adopted a Council-Manager form of government earlier this year, the Mayor's role is largely ceremonial. Therefore, we anticipate that this development will cause minimal disruption to city operations. We assure our residents that we will continue to serve them to the best of our abilities. We look forward to adopting our FY2022 budget and transitioning to a fully staffed city to further our focus on what is best for our residents."