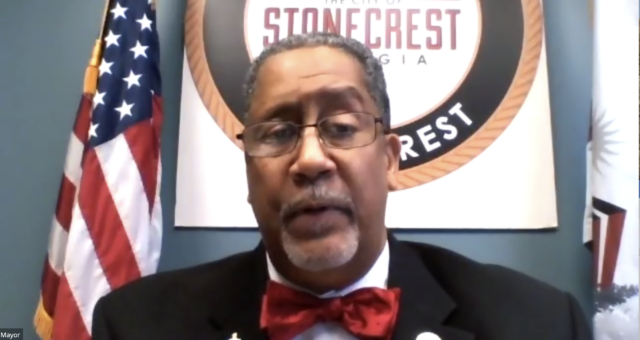 STONECREST, GA—The city's founder, Jason Lary, made his final address today, announcing his resignation as mayor effective Wednesday, Jan. 5, 10 a.m.
Lary thanked supporters during the virtual address, which was live streamed from his Facebook page today (Jan. 4) at 11 a.m.
Lary, who was re-elected to a second term in November 2019, was supposed to serve through 2023. City officials likely will begin making plans to hold an election to fill the seat upon Lary's official departure.
Lary, who heads to federal court on Wednesday morning to plead guilty to charges related to the misuse of $6.2 million in CARES Act funds that the city received in 2020. He was charged with Wire Fraud, Conspiracy and Federal Program Theft during a first appearance hearing in Atlanta on Nov. 11.
Prominent Attorney Dwight Thomas is representing Lary in the case.
Lary did not discuss the charges or the hearing during his 45-minute virtual address. Instead, he talked about the years that he and supporters spent working on cityhood and he touted the city's accomplishments under his administration since taking office in 2017. Among the accomplishments, Lary pointed to the fact that the City of Stonecrest served as a super vaccination site for the DeKalb County Board of Health in 2020, serving more than 100,00 people over a four-month period and as DeKalb's  largest  election site for the 2020 Presidential elections and two recounts for the 2020 elections.
About half-way through the address, hackers disrupted the live stream with nudity, sexual content, profanity and loud music.
Lary pressed on, saying "We're going to handle this with dignity and we're going to continue."
Lary thanked supporters, members of his administration, his wife, Debbie, of 35 years, his two adult sons, Jason and James, and even acknowledged the family's dog, Mollie.
Lary, who is from Macon, Georgia, also gave a shoutout to his alma maters, the Northeast High School Class of 1980, and Clark Atlanta University (1984).
"My thoughts and desires was to always make the city world class and being able to move us forward from there…," Lary said.
"…I ask that you all measure me by my whole story. I did the best that I could with what we had in place. I'm forever grateful for those residents who supported the vision that was implanted in me by God, of course, for our city. Thank you for allowing me to be the founder and the first mayor and..the visionary.. I think my team set the groundwork .."