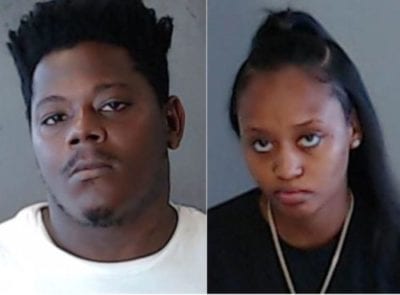 Roderick Knight, 55, is the third suspect arrested in connection with the death of a 1-year-old Decatur infant who allegedly died after ingesting an overdose of prescription drugs earlier this year.
The infant's parents, Rachelle Rattrey, 24, and Tabares Tony Wadley, 26, who were arrested on July 9, remain in custody at the DeKalb County Jail.
The DeKalb Sheriff's Office Fugitive Unit, working with the U.S. Marshals, located and arrested Knight on July 23 in Lafourche Parish, Louisiana, on warrants charging him with second-degree felony murder and felony second-degree child cruelty.
The parents of the infant have been charged with felony second-degree murder, felony second degree child cruelty, and misdemeanor violation of the Georgia Controlled Substance Act (Possession of an Ounce of Less of Marijuana).
According to a warrant, Knight was a roommate living with the family. Investigators found several prescription bottles prescribed to Knight that were scattered throughout the home on the floor.
The infant died after ingesting 3400 ml of oxycodone—34 times the amount typically prescribed daily for an adult—according to a toxicology report on March 25, 2019.
On the day of the incident, the mother fed the infant juice and formula around 8:30 a.m., put the baby to bed at 9 a.m. and both parents left the child with a babysitter at the home.
At noon, the babysitter heard a gurgling noise and discovered the baby was foaming at the mouth and called 911.
A search warrant was executed on March 28, three days after the toxicology report indicated the child had oxycodone in his system.
The warrant says that officers located containers prescribed for Knight for Xanax, oxycodone and Ibuprofen and less than an ounce of marijuana in the parents' room.  A cell phone the parents shared, which was located on the floor, had text messages seeking to buy marijuana gummies and Percocet. The phone had been purged of several messages, investigators said. The warrant also states that detectives interviewed the paternal grandmother who told them that her son and Knight traveled to Miami once a month to get refills for several prescription drugs.
Knight had moved out of the home more than two weeks before the warrant was executed. He is awaiting extradition from Louisiana to DeKalb County, where he will be booked into the DeKalb County Jail.