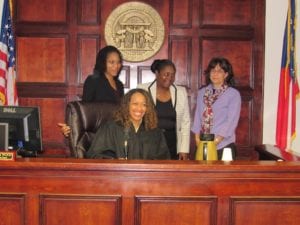 Rockdale County Juvenile Court Judge Maureen E. Wood performed a swearing-in ceremony on Dec. 7 for three new volunteers who will work with Rockdale's Court Appointed Special Advocates (CASA) program.
CASA is a non-profit organization that trains community volunteers to advocate for the best interest of abused and neglected children in juvenile court proceedings. Rockdale currently has 55 volunteers in the program with 33 who are actively taking cases. Volunteers must go through a rigorous 10-week training process, which includes eight hours of court observation.
Nationally, about 76,000 volunteers participate with CASA and serve more than 250,000 children each year, according to the organization's web site.
" Many people think the only way they can make a difference in the lives of foster children is by becoming foster parents. That's a misconception," said Wood.  "Serving as a CASA volunteer is the perfect example of how someone can make a meaningful impact on the lives of our community's most vulnerable population. I'm very grateful for our CASA program, which is celebrating its 20th year in operation."
Wood said Rockdale County Juvenile Court also engages the community through the Mentoring Program, which is always looking for new mentors, and the Teen Court Program, where local high school students learn about the judicial system by holding court monthly serving in the roles of attorney, judge, bailiff, etc.
Wood, who is Rockdale's first African American and believed to be the first female to hold the seat as Juvenile Court Judge in the county, was sworn into office on Sept. 30.