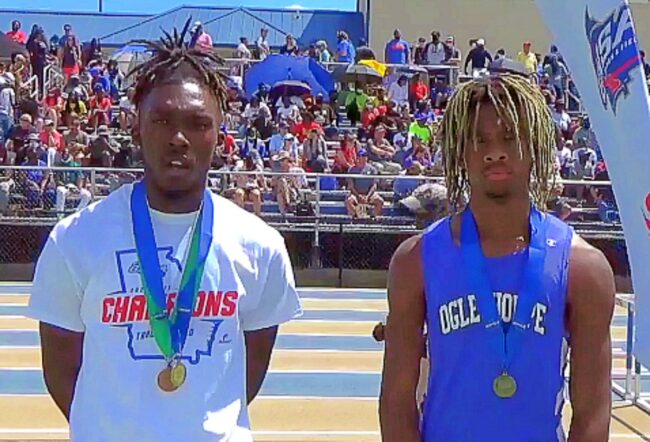 L-R: Quandarius Patrick and  Michael Fleming
By Mark Brock
DCSD Athletics Specialist
Quandarius Patrick gives up gold medal to competitor, sparks emotional moment for 
fans
DEKALB COUNTY, GA—Quandarius Patrick, a senior at DeKalb County School District's (DCSD) Towers High School, demonstrated the ultimate example of sportsmanship after winning the second running of the Class 2A Boys' State 110-meter hurdles on May 15 at McEachern High School.
Patrick surprised those in attendance as he pulled Oglethorpe County sophomore Michael Fleming up to the top of the podium and switched medals with him due to what happened in the original running of the event.
"He deserved it more so I gave him the first place medal and took the third place medal," said Patrick. It was the right thing to do after all the hard work he had put in to winning the first race."
Fleming, a second-generation hurdler at Oglethorpe, had the gold medal wrapped up along with breaking his dad's 110 hurdle school record at Oglethorpe in the first running of the event with a time of 14.39.
Unbeknownst to both runners, a runner behind them hit a hurdle and caused another competitor to fall. The rules call for a disqualification of the violator and a re-running of the race with the other competitor getting the opportunity to run again despite the fact it did not interfere with the top finishers.
"I was so happy," said Fleming after winning the initial race. "I was ready to call my dad and tell him I broke his record.
Patrick won the second running of the 110 hurdles (14.94), but had finished third in the first race behind Fleming. Fleming finished third in the re-running with a time of 15.14 with teammate Quentin Willis taking second in 14.97.
"I was taken by surprise when it happened," said Towers Track Coach Clifton Gordon. "We couldn't be down on the field and when we looked down we saw him raise Fleming's hand, bring him to the top of the podium and switch medals."
Fleming caught by surprise said, "It made me emotional because he understood what it meant for me to win the first race."
As the moment unfolded in front of the fans of the two schools and others, people began to applaud, some with tears in their eyes, as the two competitors celebrated.
"He even made sure Fleming was part of the interview afterwards," said Gordon. "I've never seen anything like it in 22 years of coaching. I'm proud of Patrick not only as an athlete, but as a young man I've watched grow for four years."
Patrick said his team had trained to run back-to-back and so the 30-minute break helped him get ready for the second running, but he also could see the disappointment and how the turn of events had deflated Fleming as he prepared to run again.
"I could tell how upset he was after having the win taken away from him," said Patrick. "He seemed to have lost all confidence."
Fleming echoed Patrick on how he felt after the race was nullified and the runners were told it would be rerun, ""I was mad and sad because I was so exhausted from the first race and didn't think I could do it again"
Oglethorpe County Athletic Director Bill Sampson knows how these competitors who can compete against each multiple times get to know each other.
"We ran against Towers in a meet earlier in the year and in those competitions the kids talk and get to know each other," said Sampson. "They gain respect for the work they do to compete. This was a true demonstration of sportsmanship from this young athlete (Patrick).  It helped Michael (Fleming) make the most of an extremely frustrating situation."
"He (Patrick) will always be a friend to me," declared Fleming. "I'll remember that for the rest of my life"
Oglethorpe County Track Coach Todd Poucher recognized the significance of the gesture as well saying, "It was really nice of the athlete to give Michael his medal.  Even though we were all disappointed, it made Michael smile at the end of the day"
Patrick is moving on to college having signed with Clafflin University to further his academic and athletic career and carries with him the confidence to push pride aside when it counts.
"Coach has always taught us how to be men and proud to be a Titan for four years," said Patrick. "Part of that is being able to push my pride to the side. It was the right thing to do to have him be part of the first place award."
Gordon takes pride in how the boys team performed winning four gold medals and finishing third at state this year.
"It was a special day for Towers, but what Quandarius (Patrick) did made it even more special for us all," said Gordon. "I thank God I get to work with kids like Quandarius and the rest of the team at Towers."