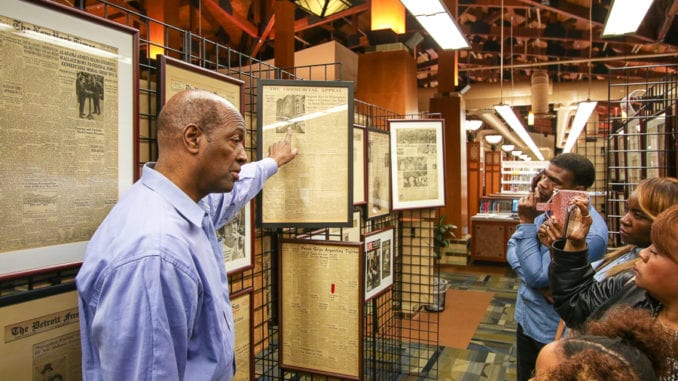 By Travis Hudgons
Civil rights history was shown from a different perspective. DeKalb County's Stonecrest Library recently hosted a civil rights visual exhibit, "Expanding Civil Rights: From Congressman Robert Elliott through Nelson Mandela."  Curated by former NBA player Mike Glenn, the free exhibit featured approximately 120 framed, historical artifacts and documents.
"For the past 15 years, I've collected books, newspapers and magazines. I wanted to share them with people. There are great lessons to be learned from history. I decided this was my mission to share this and empower people," said Glenn, who is a Georgia native.
Glenn noted that he has more than 1,000 books, and approximately 400 newspapers, magazines and documents in his possession. He purchased many of them from auctions, flea markets and online.
Once he determines a theme for an exhibit, he carefully culls through his collection to choose the pieces that best represent the theme. The Stonecrest Library exhibit featured a variety of print documents that chronicled notable events surrounding the Civil Rights Movement.
Among the items on display were Jet, Ebony and Life magazine covers — including a Life cover that featured the funeral of Medgar Evers, a Mississippi civil rights activist who was assassinated by white supremacists. The exhibit also included a two-page photo spread of Dr. Martin Luther King Jr.'s funeral in The Atlanta Constitution. Other notable items include a Harper's Weekly from 1875, Angela Davis' FBI wanted poster and one of the first articles that reported the murder of Emmett Till, the black teen who was beaten by a white mob.
"We consider civil rights from Rosa Parks in 1955 to Dr. King's death in 1968. I wanted to expand the Civil Rights Movement: time wise, participant wise and geography."
Glenn credits his parents, both educators, for his zeal for history.
"My parents taught me a lot of history around the kitchen table. Mom was a huge fan of Fredrick Douglass—she passed that on to me."
The next exhibit Glenn will display will focus on the life of Fredrick Douglass. The free exhibit will feature pictures, editorials, books and other artifacts. The exhibit will be on display through February at Gwinnett Justice & Administration Center, 1st Floor Atrium, 75 Langley Drive, Lawrenceville, Monday through Friday, 8 a.m. – 5 p.m.
For more information on Mike Glenn, visit www.mikeglenn.com.