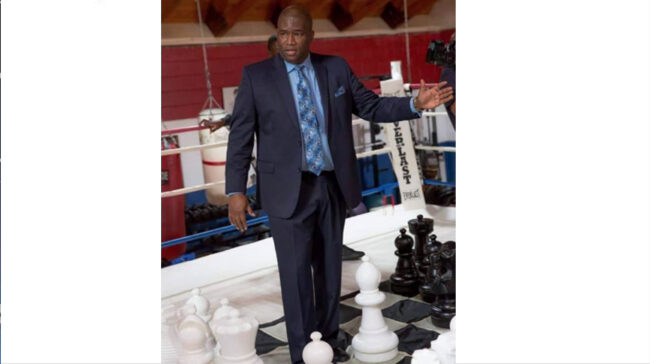 Be Someone, Inc. is offering free online chess classes for seniors + children
DEKALB COUNTY, GA—Chess is a healthy and peaceful pastime for both senior citizens and children. Orrin C. Hudson, founder and CEO of Be Someone Inc., based in DeKalb County, has developed exciting training options to help these groups learn the game and thoroughly enjoy the experience.
Hudson, who is widely known and respected for his championship chess skills, is offering free online chess lessons for local seniors and children. He has crafted the experience where participants can maximize their enjoyment for those who want to learn how to play or improve their current skills. Hudson says learning and playing the game is a "quest for peace and hope."  He explains the program he has developed includes understanding how chess leads to a feeling of personal peace, confidence, and increased intellect.
Hudson's work through his "Be Someone" non-profit has earned him both national and international fame. Classes are forming now for his upcoming training sessions, which promise to be fun and instructional.
What participants will learn:
A general overview of the game of chess and how to play
The subtleties of chess
The different styles of chess playing
The different ways to master control of the game board.
Life lessons such as there are consequences for every move you make
Classes for senior citizens
June 8 – July 9
Chess Tournament on Thursday, July 9 
Each session is 50 minutes and will continue every Tuesday and Thursday starting at 1 p.m. The training will wrap up with a fun chess tournament on Thursday, July
To register for the class, which is being made possible by the DeKalb County Lou Walker Senior Center, visit  http://louwalkercenter.com/ and look for the "Learn Chess" link.
Classes for youths 
Chess for Success – Learn Chess, Learn to Be a Winner at Life
June 5 – July 31
Chess tournament: Saturday, July 31
In addition to the chess classes for seniors, Hudson has also developed an exciting and free  two month program for area young people.  Just like his seniors program, Hudson promises participants will have a "ton of fun" while learning to play chess but at the same time they will learn invaluable life lessons the game uniquely offers.
Each session is one hour long, once a week, Saturdays, June 5 – July 31, 11 a.m. to 12 noon. Children ages 6 to young adults, 18, are invited to receive personal training from Orrin Hudson.
The "Chess for Success" program is one of several virtual programs sponsored by DeKalb County's Youth Services.
The Be Someone class is open to a maximum of 100 participants and the first 30 registrants will receive a free electronic copy of Hudson's book, "One Move at a Time."
More information, including registration details, is available by visiting www.dekalboys.org. Scroll down the list until you find "Chess for Success" and click on the icon or click on this link https://dekalboys.org/chess-class/ . You can learn more about Hudson and Be Someone at www.besomeone.org.