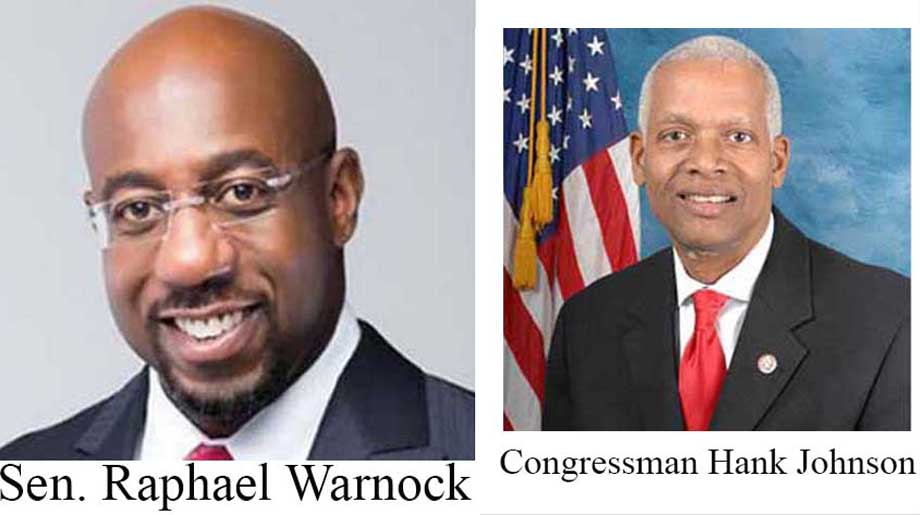 WASHINGTON – Today, U.S. Sen. Raphael Warnock (D-GA) and Congressman Hank Johnson (GA-04) sent a letter to the Inspector General at the U.S. Department Health and Human Services(HHS) as part of their ongoing investigation into COVID-19-related deaths in nursing homes.
The request to review COVID-19 data in Georgia nursing homes came from discrepancies as some 41 nursing homes in the state recorded zero COVID-19-related deaths among their residents, despite reporting over 900 infections. In addition, numerous Georgia nursing homes also reported conflicting figures to federal and state officials and appear to be under reporting deaths to the federal government.
As members of the Senate Special Committee on Aging and House Committee on Oversight and Reform, Senator Warnock and Representative Johnson support an HHS investigation to protect the wellbeing of Georgia's seniors and ensure that the federal government provides transparent and accurate accounting of COVID-19's effect in Georgia's nursing homes.
This inquiry into the discrepancy between reported infections and reported deaths is an effort to collect accurate and timely COVID-19 data to better combat this pandemic and protect Georgia's vulnerable elderly community.
"The irregularities in reported data of COVID-19 deaths in nursing home demand urgent action. Ensuring greater transparency in all reported COVID-19 data is critical for Georgia families," said Sen. Warnock.
"Hardworking Georgians entrust nursing home facilities to keep their loved ones safe; we need clarity so our state's families can be confident that their loved ones are safe—and to provide a more accurate picture of the effects of the pandemic on our most vulnerable Georgians."
Johnson said he and Warnock are demanding an investigation to ensure transparency.
"It's critical that we use science and accurate data to crush the virus and get beyond the pandemic – especially when it comes to protecting the most vulnerable among us," said Rep. Johnson. "Sen. Warnock and I believe that flawed data or reporting irregularities when it comes to COVID-19 numbers are deeply concerning and demand an investigation. Families in Georgia need greater transparency in order to feel confident that their loved ones are safe."
Read the full text of the letter HERE.