If you're looking for Christmas tree lightings and other holiday events to enjoy in the local area, mark your calendar with these free things to do in DeKalb and Rockdale counties. E-mail us more free events at: editor@ocgnews.com.  
DEKALB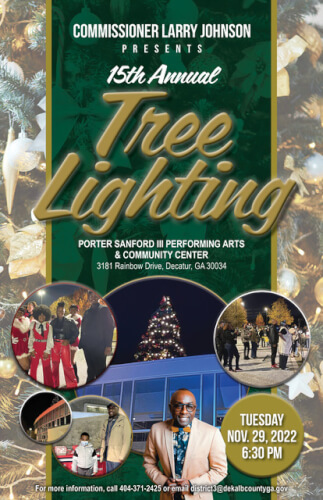 Avondale Estates
Join Avondale Estates for its first Town Green Lighting of the Tree on Nov. 28, 6 to 7:30 p.m. at 64 N. Avondale Road. The celebration will include performances by the DeKalb School of the ballet and the Decatur Avondale Children's Choir , who will lead the audience in a sig-along following the choir's performance. Scouts will serve hot chocolate and sweets and Banjo Coffe will offer special drink options. For more information: visit www.avondalestates.org. 
Clarkston
Enjoy cookies and hot chocolate, arts and crafts, raffle giveaways, music and a train ride as the city of Clarkston hosts its annual holiday festival on Friday, Dec. 9, 5 to 7:30 p.m., Milam Park, 3867 Norman Road.  The tree lighting takes place at 7:30 p.m. All activities are free. For more information, visit facebook.com/CityofClarkstonGa.
Decatur
Families are invited to the Santa on the Square event. Bring your camera to take a  photo of your child or children with Santa on Saturday, Nov. 26,  10 a.m. to 2 p.m. on the Decatur Square, 101 E. Court St.  The kids also can join in on make-and-take crafts, holiday music, hot cocoa, warm cookies and other fun surprises.  The fun continues throughout the day at local businesses for "Shop Small" Saturday.  Free gift wrap will be provided for locally bought gifts. The  kid-friendly Holiday PJs Dance Party starts at 6 p.m.
The city will host its tree lighting celebration on Dec. 1, 7 p.m., at the downtown Decatur Square. Santa will flip the switch to light the tree above the east  entrance of the Decatur MARTA on Chuch Street. Enjoy caroling and hot chocolate before the tree lighting. The event is free. For more information, visit decaturgeorgia.com.
Lithonia
The City of Lithonia will host its Christmas tree lighting on Nov.  27, 6 to 7 p.m. at William A. Kelly Park in the city's  downtown, across from  City Hall at 6920 Main Street. Enjoy holiday music, hot chocolate and apple cider. The event is free.
Stonecrest
The City of Stonecrest is inviting parents to bring their children out to take pictures with the African-American Santa and Mrs. Claus on Dec. 10, from 4 to 6 p.m.  at Browns Mill Recreation Center, 5101 Browns Mill Road. The city's tree lighting ceremony will begin at 6 p.m. There will be live music and drinks provided by Refugee Coffee at the celebration. The event is free. For more information, visit www.stonecrestga.gov.
Stone Mountain
Come out for the city's Christmas Parade, fireworks and tree lighting on Dec. 3, 4 to 7 p.m., in downtown Stone Mountain Village. Bring your lawn chair for the free event.
ROCKDALE
Conyers
The streets of Olde Town Conyers will be filled with local vendors encouraging citizens to "shop small" at the Handmade Holiday Festival sponsored by Lily and Sparrow on Saturday, Nov. 26, and the Olde Town Christmas Party and Food Truck Event on Friday, Dec. 2, 5 to 9 p.m., Enjoy marshmallow roasting, selfies with Santa, entertainment, kids' activities and more.
The fun continues with a Christmas Parade and tree lighting on Saturday, Dec. 3, in Olde Town.  The parade begins at 2 p.m. and the tree lighting begins at 6 p.m.
The 2022 parade's theme is "Superheroes Save Christmas." Trophies will be awarded to participating entries in the following categories: Mayor's Choice, Best Non-Float Entry (antique vehicles, marching bands, dance groups, scout troops and others), Best Float and Best Runner-Up Float.
The parade begins at Rockdale County High School at the intersection of Rowland Road and Pine Log Road and continues on Pine Street to Main Street before concluding at the Rockdale County Courthouse on Milstead Avenue. Rockdale County will present the lighting of the county's Christmas tree at the Rockdale County Courthouse (Main Street side) following the parade at 6 p.m.
Other holiday events in Olde Town Conyers including ice skating by Ice Days to the Randal S. Mills City Center Park/Olde Town Pavilion. The rink will be open Nov. 18, 2022-Febr. 12, 2023.
For more information: visitconyersga.com or call 1-800-CONYERS.