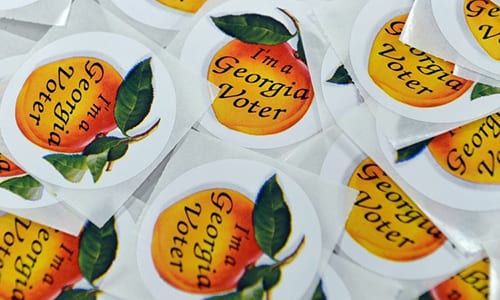 The DeKalb County Board of Registration and Elections will accept yellow or white absentee return envelopes through Tuesday, Nov. 6, 7 p.m.
The statewide vendor inadvertently printed absentee return envelopes on white stock, instead of the normal yellow stock. Because of the high volume of absentee requests and to maintain efficiency in processing requests, the white envelopes were used until a new shipment could be received. Either yellow or white envelopes are acceptable, officials said.
Advance voting is underway and will run through Friday, Nov. 2.
Voting sites and times can be found at www.dekalbvotes.com under "Current Election Information." Sample ballots and other updates also are available online.
To vote by mail, voters can obtain applications at www.dekalbvotes.com or by calling the Voter Registration & Elections office at 404-298-4020. Applications can be mailed or hand-delivered to 4380 Memorial Drive, Suite 300, Decatur, GA 30032; faxed to 404-298-4038; or emailed to voterreg@dekalbcountyga.gov.
Absentee applications will be accepted on Friday, Nov. 2,  until 4 p.m.  and ballots must be returned no later than 7 p.m. on Election Day, Nov. 6, to be counted.