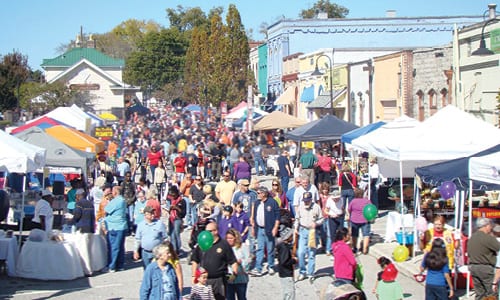 CONYERS—The 40th Annual Olde Town Conyers Fall Festival takes place on Saturday, Oct. 17, 10 a.m.-5 p.m. in the streets of historic Olde Town Conyers.
What began as a fundraiser by the Rockdale County Historical Society in 1980 to help fund operational costs for the Depot (which now houses the Conyers Welcome Center) and Old Jail Museum, has become an annual fall tradition for Conyers residents and neighboring communities. While the historical society still exists, the organization turned over the coordination of the festival to the city of Conyers in 2008.
"The festival has grown from just 20 vendors in its first year to upwards of 100 vendors in a normal year," said Events Coordinator Sandy Daniels. "We recognize this year is anything but normal and while participation among vendors and festival-goers may be fewer than in recent years, we're eager to continue this fall tradition in a fun, yet safe way."
Due to the COVID-19 pandemic, festival guests and vendors are encouraged to wear masks or facial coverings. Hand sanitizing stations will be located throughout the festival area, while restrooms, portable restrooms, and seating and dining areas will be regularly cleaned and sanitized throughout the day. Social distancing will be encouraged.
The festival will feature live entertainment on the stage at the Conyers Depot on Railroad Street, sponsored by the Olde Town Merchants Association. Handcrafted arts and crafts vendors, food vendors, children's activities, and a number of local non-profit organizations eager to share their individual missions to serve Conyers and Rockdale County will line the streets.
A costume contest for kids and pets with prizes will take place on the Conyers Depot stage at 12 p.m. The Conyers Police Department and Rockdale County Fire Department and Sheriff's Department will be on hand for fun safety activities.
The Children's Business Fair of Conyers sponsored by High Achiever's Academy will take place at the Olde Town Pavilion in Randal S. Mills City Center Park on Main Street during the Olde Town Fall Festival from 10 a.m.-3 p.m. The Children's Business Fair of Conyers features youth entrepreneurs selling their wares and believes that children, when allowed to unleash their creativity, can change the world.
In celebration of the festival's 40th anniversary, festival-goers are encouraged to participate in the Festival Frog Find activity. Forty rocks painted to look like frogs will be hidden in the festival area and throughout the city's entertainment district on festival day. Find a frog, bring it to the information tent, and receive a special prize during festival hours. The frog was chosen as a nod to the Nancy Guinn Memorial Library's frog sculpture, a popular piece of art, in Olde Town Conyers.
What You Need to Know:
The Olde Town Fall Festival takes place on Center, Commercial and Railroad streets and those streets will be closed to traffic beginning at 6 a.m. on Saturday, Oct. 17 until approximately 6 p.m. that evening.
Admission and parking for the festival are free.
For more information, visit www.oldetownfallfestival.com or call the Conyers Welcome Center at 770-602-2606.