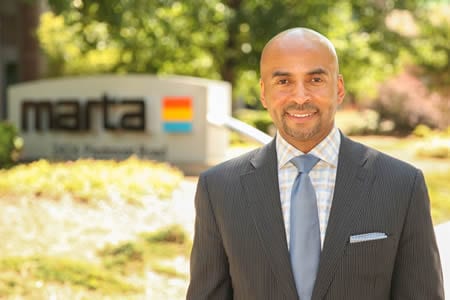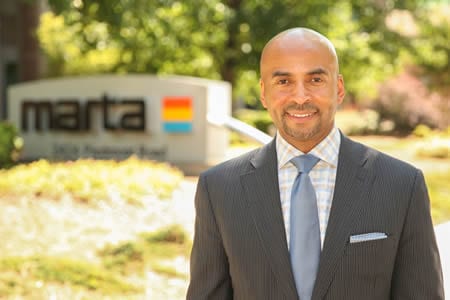 ATLANTA— Keith Parker announced today he will step down after nearly five years of service from MARTA. Parker will join Goodwill of North Georgia, which provides job training, employment placement services, and other community-based programs, as president and CEO this fall.
Led by MARTA Chairman Robbie Ashe, the Board will vote to approve an interim general manager in an upcoming session and will launch a national search for a permanent chief executive.
"We are deeply grateful for his stewardship and proud of the many strides we made as an agency during his tenure, said Ashe. "As chief executive, Parker helped to usher in a new day for MARTA's customer service, fiscal responsibility, and service expansion. He leaves MARTA stronger and healthier than ever before."
MARTA named veteran executive Arthur "Rob" Troupe—a former HNTB and Washington Metropolitan Area Transit Authority (WMATA) executive— deputy general manager. Starting Sept. 18, Troupe will report to the interim general manager and both will work directly with Parker throughout his remaining tenure to ensure a seamless transition.
"With three decades of progressive experience, Troupe joins an exceptional executive leadership team," said Parker. "This is an exciting new chapter for MARTA and I am confident that he will play an important role in the agency's future."
Parker joined the nation's ninth largest transit system as its General Manager and Chief Executive Officer in December 2012. With an annual budget of nearly $1 billion, MARTA provides more than 400,000 passenger trips a day through heavy rail, bus and paratransit services. Since taking the helm, Parker has worked with MARTA's Board of Directors to balance the Authority's budget, improve efficiencies, increase bus and rail service, and enhance the overall customer experience. Once on a path to insolvency, the Authority now boasts cash reserves topping $240 million.
During his tenure, Parker spearheaded the Authority's reinvigorated focus on transit oriented developments while enhancing the ridership experience through our partnership with Soccer in the Streets, as well as launching Fresh MARTA Markets and Artbound – the transit system's newly launched program aimed at aesthetically enhancing the rail system.
"In the wake of the I-85 bridge collapse, the MARTA family stepped up," Parker said. "From rail operators to customer service personnel, we could not have asked for a more capable, dedicated and passionate team of professionals."
In 2016, City of Atlanta residents overwhelmingly supported a MARTA ballot measure that will generate an estimated $2.5 billion over the next 40 years for high-capacity rail improvements, new infill rail stations, expanded bus routes and other services. In 2015, MARTA extended service into Clayton County.
"MARTA's future is bright, its leadership is strong and the Authority is devoted to delivering best-in-class multimodal transit services that connect communities, advance equity and promote prosperity across the region," Chairman Ashe said. "What we have been able to achieve of the last four and a half years has been a collective effort reflective of the dedication of the entire MARTA family."