Atlanta Public Schools (APS) achieved an 83.1 percent graduation rate for cohort 2021, according to graduation data released by the Georgia Department of Education on Oct. 21. By achieving its all-time high graduation rate, APS has narrowed the gap with the state rate of – 83.7% – by 2.9 percentage points to a difference of 0.6 percentage points. This is the first time that APS has been this close to the state graduation rate, APS officials stated in a news release.
A total of 2,557 students graduated on-time from APS in 2021. The percentage of students who graduated in 2021 is higher than any other year since 2012, when the state adopted the cohort graduation rate as required by federal law. While the overall number of graduates is 13 fewer than cohort 2020, the 2021 cohort contained 126 fewer students than the 2020 cohort. See Figure 1. 
Figure 1: APS Graduation Rates (Graduate Counts/Cohort Sizes)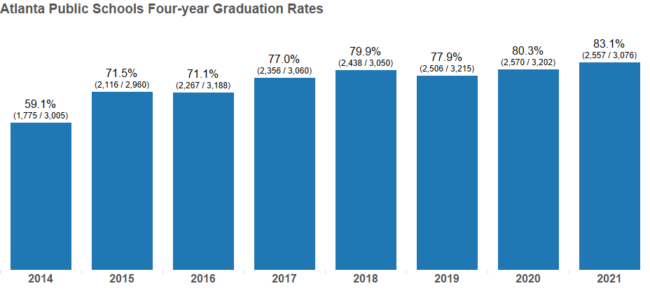 "I am incredibly proud of the Class of 2021. Despite a global pandemic, uncertainty, and racial unrest, these resilient scholars persevered and accomplished an important milestone," said APS Superintendent Dr. Lisa Herring. "Their success in achieving APS' all time high graduation rate is a testament to the focus and concerted efforts of our students, teachers, counselors, families and school leaders."
Of the 17 schools with graduating classes, eight achieved percentage-point gains compared to 2020. The largest increase was at Carver STEAM, which achieved a 18.1-percentage-point gain. Other schools achieving gains include BEST MS/HS (+15.1), Jackson High (+7.3), Washington (+7.0), Therrell (+3.1), South Atlanta (+1.8), KIPP Collegiate (+1.6), North Atlanta (+1.6), and Drew Secondary (+0.8) See Figure 2.
Figure 2: 2021 APS Graduation Rates and Change from 2020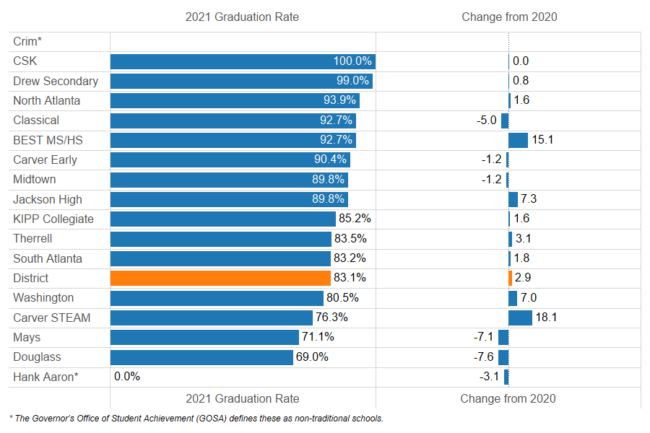 In addition, six schools had graduation rates greater than 90 percent: Coretta Scott King Young Women's Leadership Academy (100%), Drew Secondary (99.0%), North Atlanta High (93.9%), Atlanta Classical Academy (92.7%), BEST MS/HS (92.7%), and Carver Early College (90.4%).
Equity and achievement by historically underrepresented groups is also an important indicator for APS.
Chief Equity and Social Justice Officer Tauheedah Baker-Jones said, "The APS community has fully embraced the grace to grow and the growth in our overall graduation rate is demonstrative of that commitment. There is also promising growth across the board in subgroup graduation data and we celebrate this as well. These data points can inform the practices that we scale, and that we leverage to address areas in need of improvement. The Center for Equity and Social Justice is looking forward to partnering with our entire community in developing strategies to ensure that we advance our mission to graduate all students ready for college, career, and life."
Here are some other results to consider from the latest graduation rates:
Graduation rates for both White students (97.4%) and Black students (80.6%) reached new highs with the 2021 cohort, while the rate for Hispanic students (80.2%) was slightly lower than the 2020 rate (82.8%) but higher than the 2019 rate of 80.0%. See Figure 3.
Nearly 17 percentage points separated the graduation rates of Black students and White students. This is 3 percentage points lower than cohort 2020.
The graduation rate for Economically Disadvantaged (77.8%) students was 2.6 percentage points lower than the 2020 rate (80.4%) but also higher than the 2019 rate of 74.4%.
The 2021 graduation rate for students with disabilities increased by 9.2 percentage points over the 2020 of 64.6% to reach an all-time high of 73.8%.
The graduation rate for English learners also reached a new high of 76.8%, a 0.7-percentage-point increase compared to 2020.
Figure 3: APS Graduation Rates by Race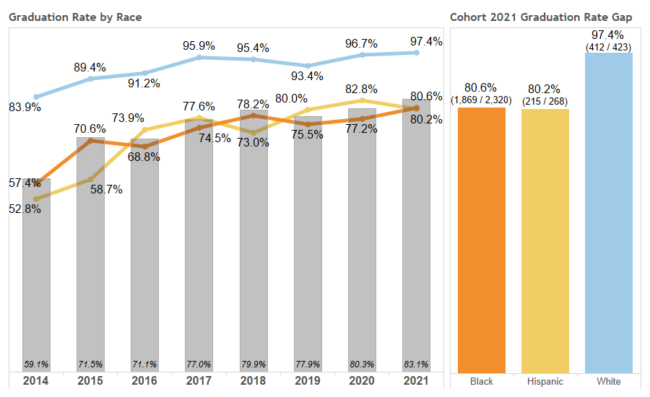 "Although we applaud the increases, we also recognize that providing equitable supports to our students who have historically faced significant challenges is paramount in helping us close our achievement gaps once and for all while also improving overall graduation rates," Superintendent Herring said. "This is one of the reasons we created the Center for Equity and Social Justice to enable schools to create equitable learning environments that accelerate success for our scholars while helping APS achieve our mission and vision."