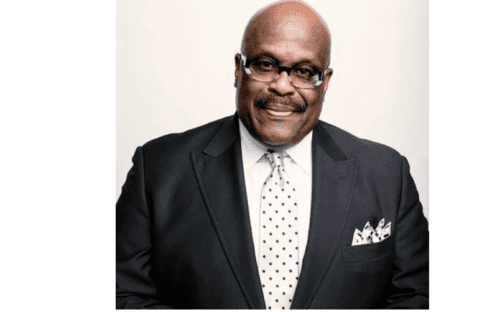 Bishop Quincy Lavelle Carswell, overseer of The Covenant Church in Decatur, is being remembered as one of Atlanta's most beloved and influential faith leaders. The prominent pastor passed away on Jan. 11, two days after suffering a stroke. He was 66 years old.
Public viewing will be on Tuesday, Jan. 21, 12 to 8 p.m. at The Covenant Church, 1700 Corey Blvd, Decatur.
The celebration of life will be held on Wednesday, Jan. 22. Bishop Carswell will lie in state at The Covenant Church from 9 a.m. to 10 a.m. and the funeral will begin at 11  a.m. at the church.
Bishop Carswell had been in ministry for more than four decades.  In December, he celebrated his 44th pastoral anniversary during a special worship service at The Covenant Church.  His son, Quincy Carswell, II was installed seven years ago as pastor of The Covenant Church.
Retired Lt. Col. Amos King, who heads Justice for Veterans, saidBishop Carswell would truly be missed.
"We really appreciate that he helped veterans. The church held early morning worship services on Sundays specifically for military units. They were good neighbors to the Army Reserve Center, which is located next to the church," said King.
DeKalb Commissioner Mereda Davis Johnson called Bishop Carswell a staple in the community, offering condolences to the family on behalf of herself and her husband, Congressman Hank Johnson.
"Bishop Carswell was a staple in DeKalb County for nearly 30 years, having established the Covenant Church in July of 1993.
Hank and I extend our deepest sympathy to the entire Carswell family. We will continue to keep you in our thoughts and prayers," Commissioner Johnson said in a statement to constituents.
Bishop Ricky E. Walker from Greater City Of Deliverance, a friend for more than 10 years, said Bishop Carswell was a "source of inspiration, wisdom and encouragement."
"He was very instrumental In me being consecrated as a bishop. My youngest daughter was married in his church," Bishop Walker said.
Bishop Carswell was born and raised in Miami, Florida. He and his twin sister, Quitina LaJune, were born on their mother's birthday.  Their parents, the late Elijah and Othessa Carswell, had five children and the twins were the youngest of the siblings.
In 1968, Carswell and his family moved to Providence, Rhode Island, where he graduated from Mount Pleasant High School. Bishop Carswell went on to receive degrees from Bethune Cookman College (BA); Interdenominational Theological Seminary(master of divinity); University of California (doctor of ministry); and post graduate education from Harvard University, along with multiple honorary degrees.
In 1982, Bishop Carswell was named by the Rev. Jesse Jackson as the first president of the Atlanta Chapter of Operation PUSH, hosting the largest national convention in PUSH history.  He also served as one of the national strategists and leaders for the 1984 and 1988 Presidential bids of Rev. Jackson.
Bishop Carswell served on several local, regional and national boards, task forces and commissions.  He was a member of the Prince Hall Free and Accepted Masons (Plymouth Rock #86).
The recipient of many awards, Bishop Carswell held the distinction and honor of being a 1995 inductee into the Morehouse College Board of Distinguished Preachers. He also received the highly acclaimed Benjamin E. Mays Award, given annually in Atlanta for outstanding religious, community and social activism.
Bishop Carswell served on several local, regional and national boards, task forces and commissions.
Bishop Carswell traveled extensively. His travels included Austria, Russia, Yugoslavia, Poland, Hungary, Czechoslovakia, and other European countries.  He was chosen by the Association of Colleges and Universities for International and Intercultural Studies (A.C.U.I.I.S.) to be "Scholar in Residence" at the University of Austria.
Bishop Carswell pastored the historic Tabernacle Baptist Church in Atlanta for 17 years (1975 – 1992).
In July 1993, Bishop Carswell organized The Covenant Church, one of the fastest-growing ministries in metro Atlanta and the U.S.  In a 2005 article, the Atlanta Journal & Constitutioncited Bishop Carswell as one of Atlanta's most effective and influential Pastors: "A Ministry that is touching the lost, the least, and the left-out; and making an unparalleled impact across this nation."
Bishop Carswell was consecrated to the sacred office of Bishop on Feb. 4, 2001.
  Bishop Carswell is survived by his wife, First Lady Gwendolyn Jones Carswell, to whom he was married for 39 years; and their children, Quinae Aresia Ford and Pastor Quincy Lavelle Carswell, II; and three grandchildren, Matthew Alexander and Miya Allison Ford; and Quincy Lavelle Carswell, III.
The celebration of life service is entrusted in the care of Gregory B. Levett and Sons Funeral Homes & Crematory, Inc.