By Mark Brock DeKalb County Public Schools District Athletics Special
DEKALB COUNTY, GA—A big 10-0 run to open the second overtime propelled the Cedar Grove Saints to a 94-91 Class 3A boys' Elite 8 win over the Long County Blue Tide at Cedar Grove on Wednesday (March 1).
The Saints (19-9) almost did not get the chance to go on the second overtime run as Long County (20-12) scored three points in a four-second span to take an 80-78 lead on a free throw by Keshawn Smith with 8.8 seconds to play in the first overtime period.
Cedar Grove got the ball up the court to get a shot which bounced off the rim and into the hands of Nathiel Loyd, who put it back up and in to tie the game at 80-80 just before the buzzer.
Emanual Green opened up the second overtime with a drive baseline to give Saints the lead at 82-80 only to have Long County get an offensive rebound and basket by Cameron Rosa. Green would get a key hustle block to get he Saints going the other way.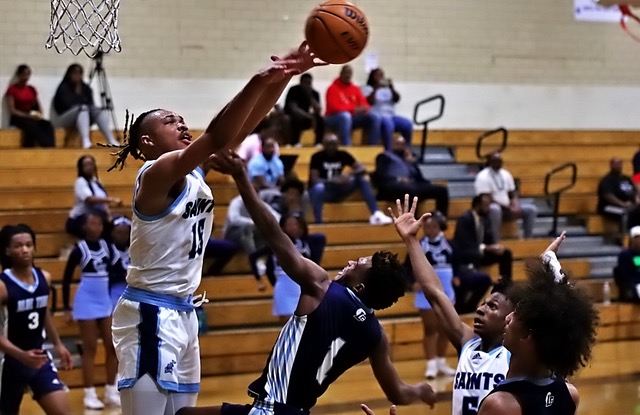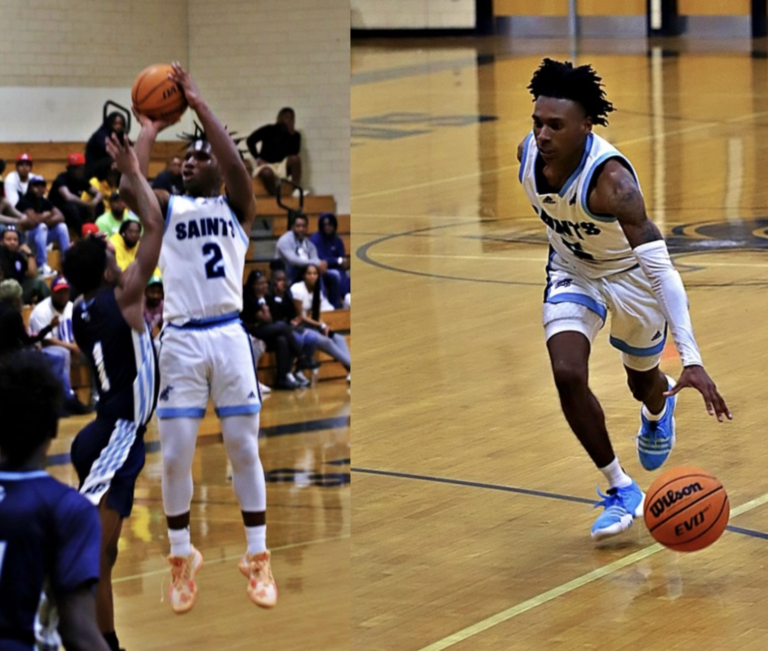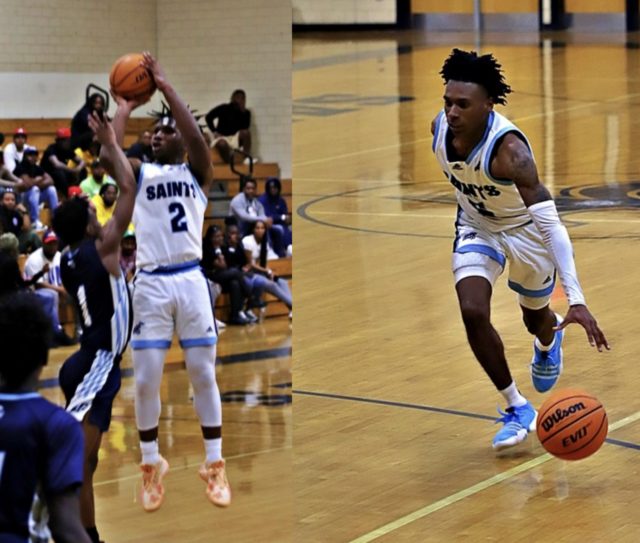 Cedar Grove would reel off eight consecutive points (4 by Hardaway) which ended in the crowd erupting following a big dunk by Green to make it 90-82 with 1:31 to play.
Long County, like the Saints, had a no quit in them as they pulled back within 93-91 with 10 seconds to play on a Zyi Holt fall-way jumper just outside the lane.
Jaylen Adside was fouled and hit one of two to make it 94-91 with five seconds to play. The Saints pressure the inbounds and force Long County to throw a hail-Mary towards their basket that fell short before the buzzer.
Long County rallied to tie the game a 32-32 at the end of the half and then rallied from down 13 in the fourth quarter to force overtime. The Saints started building the lead behind a 15-point, third-quarter performance by EJ Colson to make it 53-46 with one quarter left.
Christian Glenn hit for 11 points in the fourth quarter, including three from behind the three-point line to rally the Blue Tide from a 59-46 deficit. Holt knotted the game with seven seconds to play on a three-pointer from deep on the right wing.
Cedar Grove got called for a five second call on the inbounds and had to defend the final seconds to keep the game tied. Senior Darius Reynolds came up big by blocking a shot inside and the game would go to overtime.
EJ Colson scored 29 points to lead Cedar Grove and Jaylen Adside added 21 as two of four Saints in double figures on the night. Green scored 16 points and grabbed 8 rebounds while Reynolds scored 11 points, picked up 8 rebounds and blocked 8 shots.
Christian Glenn hit for 29 points to lead the Blue Tide while Jamel Bramlett hit for 19, Cameron Rosa 12 and Smith added 9 points and 13 rebounds.
The No. 7 ranked Saints move on the Class 3A State Semifinals on Friday and face Douglass (16-13) for the fourth time this season in a game scheduled for 4:00 pm at Fort Valley State University. The No. 2 ranked Sandy Creek (24-6) team and No. 3 Cross Creek (20-10) face off in the other semifinal at 8:00 pm.
Class 2A Boys 
Columbia 74, Windsor Forest 60 
The No. 2 ranked Columbia Eagles put up 29 points in the fourth quarter to rally past the homestanding No. 6 ranked Windsor Forest Knights for a 74-60 win in a Class 2A boys' basketball Elite 8 playoff game in Savannah on Wednesday night.
Windsor Forest (23-7) took a 33-28 lead at the half behind 10 points from Landon Page in the second quarter while Ahmad Grovener added a pair of threes.
Columbia (30-1) still trailed 48-45 at the end of third quarter as Jah'Tavious Gaines had six points in the period to keep the Knights ahead going into the fourth quarter.
Six different Eagles put points up in the huge turnaround in the fourth quarter led by Jaden Baugh with 8 points and Jamarcus Hatcher with six of his 10 points for the game in the quarter including two-of-three from the free-throw line.
Terrell Wright put in five points and Rashad Headges added four more along with Trevian Callaway who was also two-of-four from the line. Kevin Bruce aided the cause going two-for-two from the line.
Meanwhile on defense the Eagles held the Knights to just five baskets (2 three-pointers) in the final quarter.
Baugh finished with a game-high 23 points for Columbia as three other teammates also hit double figures.  Rashad Headges and Terrell Wright knocked in 12 points each and Jamarcus Hatcher contributed his 10 points.
Landon Page hit for 13 points for the Knights and was joined in double figures by Ahamad Grovener with 12, Qurahn Anderson 12 and Gaines with 10.
Columbia moves on to face No. ranked Westside (23-7) of Augusta, the reigning Class 2A state champions, in a rematch of an 82-72 second round loss to the eventual state champions last season. The pair hook up in the 8:00 pm semifinal game at Georgia College and State University in Milledgeville on Saturday. No. 7 ranked Providence Christian (26-4) takes on unranked Model (23-4) in the 4:00 pm semifinal.
DCSD BASKETBALL STATE PLAYOFFS SCHEDULE
Wednesday, March 1  
Class 2A Boys
Columbia (30-1) 74, Windsor-Forest (23-7) 60
Class 3A Boys
Cedar Grove (19-9) 94, Long Co. (20-12) 91 (2OT)
Friday, March 3 
CLASS 3A BOYS SEMIFINALS  
FORT VALLEY STATE UNIVERSITY, FORT VALLEY 
Cedar Grove (19-9) vs. Douglass (16-13), 4 p.m.   
Saturday, March 4 
CLASS 2A BOYS SEMIFINALS 
GEORGIA COLLEGE AND STATE UNIVERSITY. MILLEDGEVILLE 
Columbia (30-1) vs. Westside-Augusta (23-7), 8 p.m.