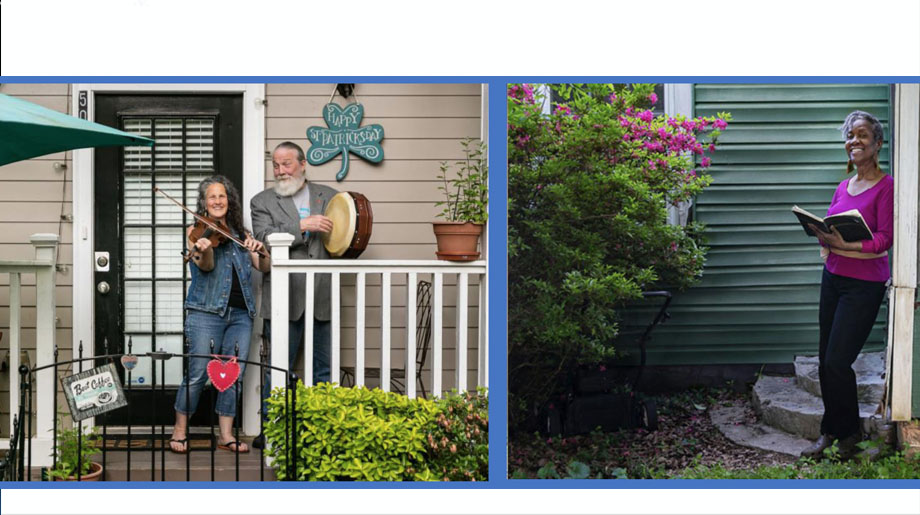 PINE LAKE, GA— "Pandemic Porch Portraits," a photo wall created by Cindy M. Brown, will open on April 11, at the tennis court beside the Western wetlands, Lakeshore Drive, in Pine Lake.  The public is invited to a socially distanced outdoor opening reception on Sunday, April 11, 4 to 6 p.m., and to view the exhibit when visiting Pine Lake Park this spring.   Admission is free.  Masks are required.
Featuring portraits of Pine Lakers posing with their families, pets and creative projects, this outdoor installation documents how one community has survived and thrived during the COVID-19 pandemic.  The project, which began as photographer Brown's way of surviving quarantine, grew to include the insight and inspirations of an entire neighborhood.  Many of their photos and stories are displayed on the new photo wall, and all are included in her accompanying book, "Surviving Quarantine."
"Pandemic Porch Portraits" is sponsored by the City's Municipal Arts Panel (MAP), founded in 2016. It represents the most recent project in Pine Lake's long tradition of supporting artists and encouraging participation in the arts. Pine Lake is infused with musicians, writers and artists and is known for its music performances, a summer Makers' Market and LakeFest, an annual fall festival and other events.
MAP's mission is to support and promote the creative work that has made Pine Lake an artist haven during challenging times.
Pine Lake, DeKalb's smallest city, is located 12 miles east of Atlanta, between Decatur and Stone Mountain.  The city's centrally located park includes a lake and wetlands with walking trails. For more information, visit:  https://pinelakega.net/Portraits.aspx  or email: plartwall