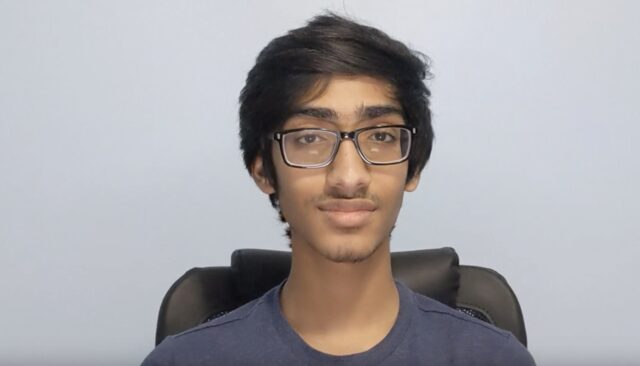 Brookwood High School junior Niheer Patel, a junior at Brookwood High School in Gwinnett County, has been named the winner of the 2021 Congressional App Challenge, Congressman Hank Johnson (GA-04) announced.
The Congressional App Challenge is an annual competition showcasing the value of computer science and STEAM (Science, Technology, Engineering, the Arts and Mathematics) education by encouraging students to learn how to code through the creation of their own apps.
"Science and technology are transforming our world and I'm proud of the students who go above and beyond their school's curriculum and other every-day tasks to compete in the challenge," said Johnson. "The app challenge allows us to showcase some of the Fourth Congressional District's brightest young minds as they take on cutting-edge technology that is becoming an increasing part of all our lives."
The winning app, "Georgia DDS Checklist," was created using Java Script and was designed to prepare teens or others visiting the DDS (Department of Driver Services) to obtain a Class CP, Class C, or Class D license. For each type of license, there are checklists that users can interact with to keep track of which steps they have completed, and which steps still need to be done.
"My main inspiration to create this app was hearing stories from my peers and friends about terrible DDS experiences where they forgot critical documents and then had to wait months to get another appointment, especially in the midst of the pandemic when spots are incredibly limited," said Patel. "With my own appointment approaching soon, I wanted to ensure that no others (myself included) have to go through similar rough experiences to get their driver's licenses. By consolidating all the info into a single, easily accessible place, I hope to make the DDS experience seamless."
Congressman Johnson's Congressional App Challenge is open to all students in the 4th Congressional District of Georgia. The competition highlights the value of computer science and STEAM education (Science, Technology, Art, Engineering and Math). Students were judged on the following criteria: Quality of the idea, including creativity and originality; Implementation of the idea, including user experience and design; and the ability to demonstrate their coding and programming skills.
Officially launched by the U.S. House of Representatives in 2015, this nationwide effort allows students to compete against their peers by creating an application (app), or game for mobile phones, tablets, or computer devices. The challenge is designed to promote innovation and engagement in coding and computer science.
The winning app will be featured in the nation's Capitol building, and on http://House.gov
Congressman Johnson is also working on additional ways to celebrate Niheer Patel and his app. You can view the winning app, "Georgia DDS Checklist," here: https://youtu.be/hDRH-p2H9lY.
"Despite months of disruption endured by classrooms across the country, Niheer rose above these difficulties to represent Georgia's Fourth Congressional District and he joined more than 7,000 students across the country who competed in the challenge," said Rep. Johnson. "I am thankful each year to be alerted of our children's exceptional talents and commitment to technology."