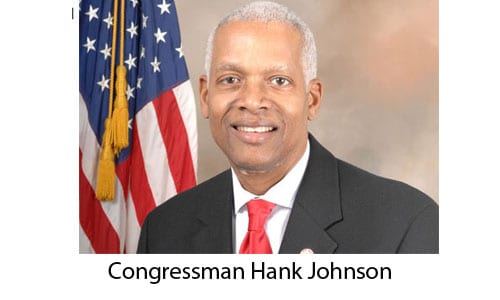 DECATUR, GA — On Wednesday, April 7, 3p.m., Congressman Hank Johnson (GA-04) is holding an American Rescue Plan (ARP) "Teach-In" event to highlight the life-saving resources contained in the new law.  The virtual event will help people understand how they can benefit from the various provisions of the bill by connecting constituents with resources under the plan.
Johnson will bring together experts from federal, state and local agencies to speak with Fourth District residents about what the American Rescue plan means for them, their families and small businesses – and how the ARP has empowered these agencies to help constituents. This event will be about an hour with most time for Q&A.
Johnson will be joined by a representative from the Georgia Department of Community Affairs (DCA); Terri Denison, District Director for the Small Business Administration; Nancy Flake Johnson, President & CEO of The Urban League of Atlanta; Christy Norman, Vice President of Pharmacy Services at Emory Healthcare; Michele Chivore, Director Network Growth for the Atlanta Food Bank; Jeff Taylor, CEO of Oakhurst Medical; Terry Quarles, Recovery Division Director FEMA; Deric Gilliard, Public Affairs Specialist Department of Health & Human Services (HHS); Attorneys Karen Brown, Lindsey Siegel and Mary Irene of Atlanta Legal Aid; Everton Blair, Chairman of the Gwinnett County Board of Education; Vickie Turner, Chair of the DeKalb County Board of Education.
WHAT: Virtual "Teach-In" on the American Rescue Plan via Zoom and on Facebook Live;
WHEN: Wednesday, April 7 from 3-4 PM;
WHERE: To register on Zoom: https://bit.ly/2R1ibJV or watch on Congressman Johnson's Facebook page: https://www.facebook.com/RepHankJohnson/.