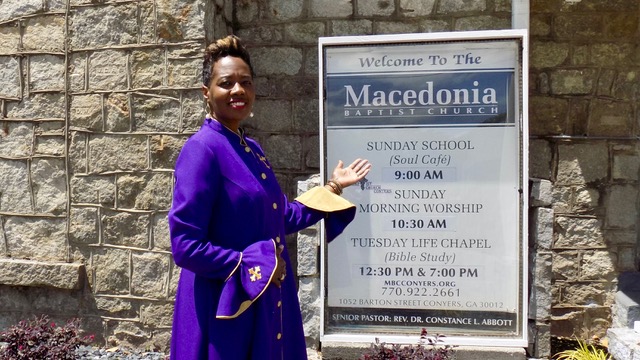 CONYERS, GA—Installation services will be held on Sunday, May 15, for the Rev. Dr. Constance L. Abbott, who has been appointed the new pastor of the historic Macedonia Baptist Church Conyers. Macedonia, located at 2052 Barton St. in Conyers, was founded in 1873 and is one of the oldest African-American churches in Rockdale County.
Pastor Abbott succeeds the Rev. Billie Cox, who was appointed in 2012 as the first woman to lead Macedonia Baptist Church in Conyers.
Rockdale Baptist Church, located at 1295 Smyrna Road S.W., will host the installation at its campus at 3 p.m. and invites the community to join both congregations for the celebration.
"We welcome Pastor Abbott to the Macedonia Baptist Church. We are excited, and we feel truly blessed to have her as our pastor. She has the heart of a pastor because she respects and cares for us all," said Deacon Joe Manning, chairman of Macedonia's Deacons' Board.
Pastor Abbott is no stranger to Rockdale. In 2017, she completed a semester of internship at Macedonia as part of her doctoral program requirement. She said she was able to work alongside church leaders and congregants on several projects during that time and build a genuine love and respect for the Macedonia family.
"I am super excited that God has led me back to this loving congregation that continues to embrace my leadership and is ready to charge forward together unto greater successes," Dr. Abbott said. "I believe that God has been preparing me for this appointment since December of 1996, the year I was ordained to preach the Gospel."
Pastor Abbott said she is looking forward to continuing sharing biblical truths with God's people "to empower, position, and equip all with the knowledge and tools necessary for victorious living."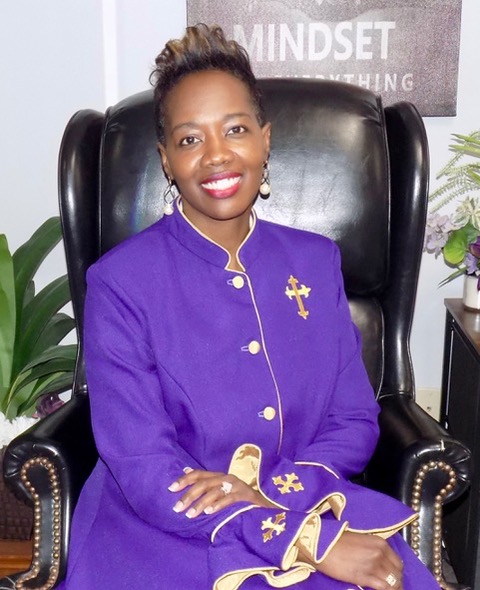 "My immediate focus is to re-establish a thriving youth department that is relevant and effective, ensuring the necessary resources are available to mentor and prepare our youth for future life successes," said Pastor Abbott.  "Although I am focused on building MBCC's youth ministry, my additional focus is getting every people ministry department at MBCC operating and ready to minister to the needs of the current and future members. As the church continues to grow, adding new members from various age groups, I want to make certain the church has activities and ministry offerings that are fun, engaging, and foster spiritual growth and development.
Leaders at Macedonia say they are looking forward to Pastor Abbot's leadership.
"I am excited that the search committee chose Pastor Abbott and that the congregation voted her in as our Senior Pastor.  I know that God has a great deal for us to do under her leadership.  I also know that through God's will, we will accomplish many things for and in the community," said the Rev. Reginald Knight.
Hattie Moore, who heads Macedonia's Mothers Board, echoed Rev. Knight's sentiments.
"We thank God for all the work of faith and labor of love that Pastor Abbott has shown us," said Moore.
Valencia McDaniel, an officer of the church's Executive Board, said Pastor Abbott is already working God's plan. Pastor Abbott began her assignment as senior pastor on Feb. 26, 2022.
"God had a plan, and that plan included selecting Pastor Constance Abbott as our new Senior Pastor. She has a heart for God and a heart for the people and has already shown she is about the spiritual growth and development of the members of Macedonia," said McDaniel.
Minister Carol Westbrook Patrick said she feels the congregation is blessed to have a shepherd who has a background in ministry and healthcare. Pastor Abbott holds a bachelor's degree in Nursing, in addition to a master's degree in Theological Studies and a doctorate degree in Ministry.
Said Minister Patrick: "I don't think that it is a coincidence that Dr. Abbott is in the field of healthcare and is at this time embarking on this new assignment as the Senior Pastor at Macedonia Baptist Church Conyers.  These past nearly three years, healthcare employees and first responders have taken charge as front-line workers during an unprecedented global pandemic. Rev. Dr. Abbott understands the fortitude that it takes to lead as an "essential worker." And that's what pastors have been throughout history – life support and critical care for communities that needed direction and leadership."
Arlina Staton, who serves on Macedonia's Executive Board, said Pastor Abbott embodies the heart of Macedonia.
"Her gentle spirit, radiant smile and the manner in which she weaves the words of God are like tapestries of the bible," Staton said. "Every Sunday, in her message, she is sure to insert the words "The Bible Says."  May blessing fall upon her and Macedonia as we move forward together to equip others for the journey of Kingdom building."
About Pastor Constance L. Abbott
Pastor Constance L. Abbott  received her bachelor's degree in Nursing from Clayton State University in 1999. She was afforded many opportunities to serve in various capacities as a Registered Nurse Leader in the healthcare industry. Pastor Abbott received her master's degree in Theological Studies from Liberty University in 2014 and a Doctoral degree in Ministry from South University in 2018.
Pastor Abbott was licensed to preach the Gospel in 1996at First Agape Christian Fellowship Church under theleadership of Dr. Erin Ward, senior pastor.
Pastor Abbott also served under the leadership of Pastor Keith D. Brooks of the All Nations Life & Praise Church in Stockbridge.
Pastor Abbott has served the Lord in a variety of ministries, including as Praise and Worship leader, soloist, choir director, Youth Ministry, Women's Ministry, Christian Education, Discipleship, Intercessory Prayer, and Health Care Ministry. She has organized and hosted numerous retreats and conferences. She created and developed a discipleship curriculum that is currently being utilized to assist with the growth and development of new believers during their first 6 months of conversion.
Pastor Abbott and her husband, Michael, have a daughter, Mychal Abbott, and a godson, Tyler Lewis.  
 Worship with Macedonia Baptist Church
Macedonia Baptist Church is located at 1052 Barton St., Conyers. Sunday School is held at 9 a.m. and Worship Service is at 10:30 a.m. Tuesday Bible Study is at 7 p.m. The Thursday Boost is held at 6:30 a.m. via call-in: 425-436-6386, Access code: 3318014#