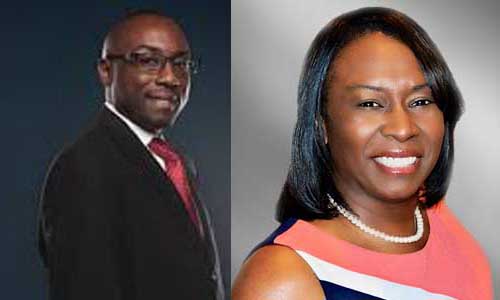 Pictured L-R: DeKalb County Commissioner Larry Johnson and DeKalb NAACP President Teresa Hardy
The DeKalb County Board of Commissioners unanimously passed a resolution on July 14 declaring racism a public health crisis. The resolution, sponsored by District 3 Commissioner Larry Johnson, received the full support of the seven-member board.
"This is a victory towards atonement for past discrimination practices against African Americans," said an elated Johnson.
The resolution details the economic, emotional, physical, and sociological effects of systemic racism on minorities in general and African Americans in particular.
The measure cleared the first hurdle in a committee meeting held on July 8, after a heated debate that divided the commissioners along racial lines. Two friction came after Jeff Rader and Nancy Jester, two white commissioners, said they would support the resolution only if it included a broad definition "for people of color" to reflect DeKalb's diverse population.
However, Johnson, who is African American, said he didn't want to dilute the resolution's language emphasizing that African-Americans have been systematically discriminated against since they were brought to the U.S. in 1619.
DeKalb NAACP President Teresa Hardy agreed with Johnson.
"For decades, sociologists, psychologists, physicians, criminologists and social justice advocates have recognized the impact that racism has on the African American population," said a Hardy. "Individual and institutional racism drastically affects the economic and social mobility as well as the physical and mental health of African Americans, and the outcries against racism have gone largely unheeded by people in authority until now."
"This progressive action undertaken by the DeKalb Board is a gamechanger," added Hardy, "and it can be a catalyst for other authorities to look at racism in a different light and to begin to systematically dismantle the remaining vestiges of Jim Crow practices that discriminate against African American and other minorities."
Hardy went on to say that based on some of the comments made by some members of theBOC , it appears that there is still some uncertainty about whether racism has a definite impact on African Americans.
"Those commissioners and other residents, who are not African Americans, cannot fully understand the amount of racism that African Americans experience on a regular basis. That is understandable. However, for residents who may have misgivings about the resolution, I would ask them to answer two questions:  How could they be harmed by the implementation of the initiatives in the resolution and what harm is there in getting government authorities to address the disparities in the health and the healthcare service that exist between blacks and whites in Georgia?"
The NAACP urges the Board to recognize the monumental step that they have taken in addressing the health and other disparities between blacks and whites that have gone unaddressed for much too long.
Hardy invited the community to join in the mission to end hate and racial discrimination by contacting the NAACP branch at info@naacpdekalb.org or www.naacpdekalb.org.