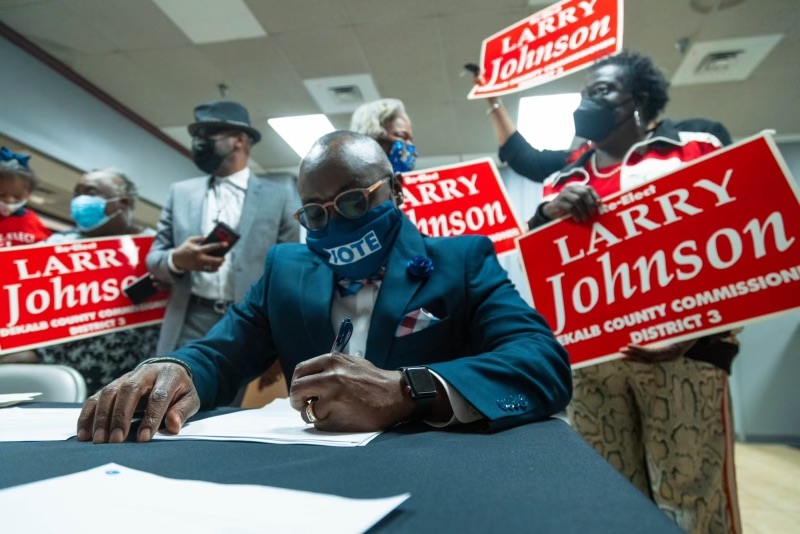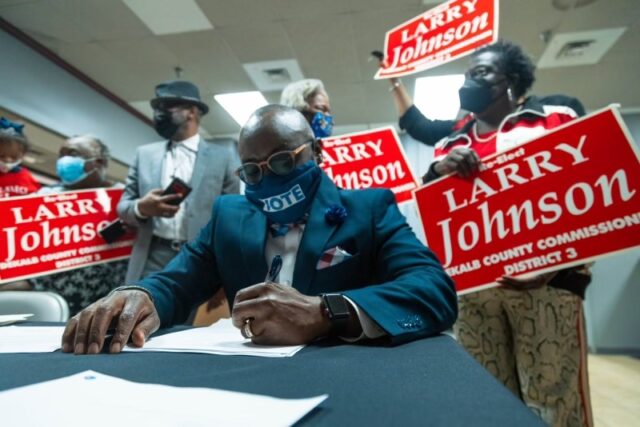 DEKALB COUNTY, GA— On Monday, March 7, an enthusiastic crowd of supporters accompanied Democratic County Commissioner Larry Johnson as he qualified to run to continue his service to DeKalb County's District 3.
"I'm running because District 3 needs innovative, experienced leaders who are willing to work with others to develop solutions to move our community forward," said Johnson. "If we link people to the resources they need, leverage public and private partnerships and empower each other through education, we can build an even brighter future for our county."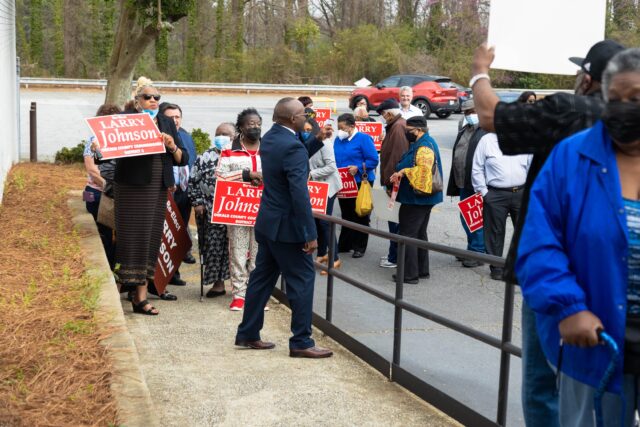 Johnson has served on the DeKalb County Board of Commissioners since January 2003. During his tenure, he has consistently worked with with community leaders to complete projects that respond to community needs including building 170 senior housing units adjacent to the South DeKalb Senior Center; constructing the Porter Sanford Performing Arts and Community Center, Rainbow Park and the new state-of-the-art 1000-seat outdoor amphitheater. Johnson also successfully advocated for the allocation of $6.1 million to expand the Michelle Obama Trail, $8 million to build the Intergenerational Center at Exchange Park and $8 million to improve sidewalks on Glenwood Road.
Johnson pledged to continue his intergenerational approach to bringing people of all ages together for the common purpose of building a stronger, safer and more equitable community.
"By listening to and working with community leaders, we are able to provide District 3 residents with the resources they need to thrive," said Johnson, who was re-elected for his fifth term in November 2018.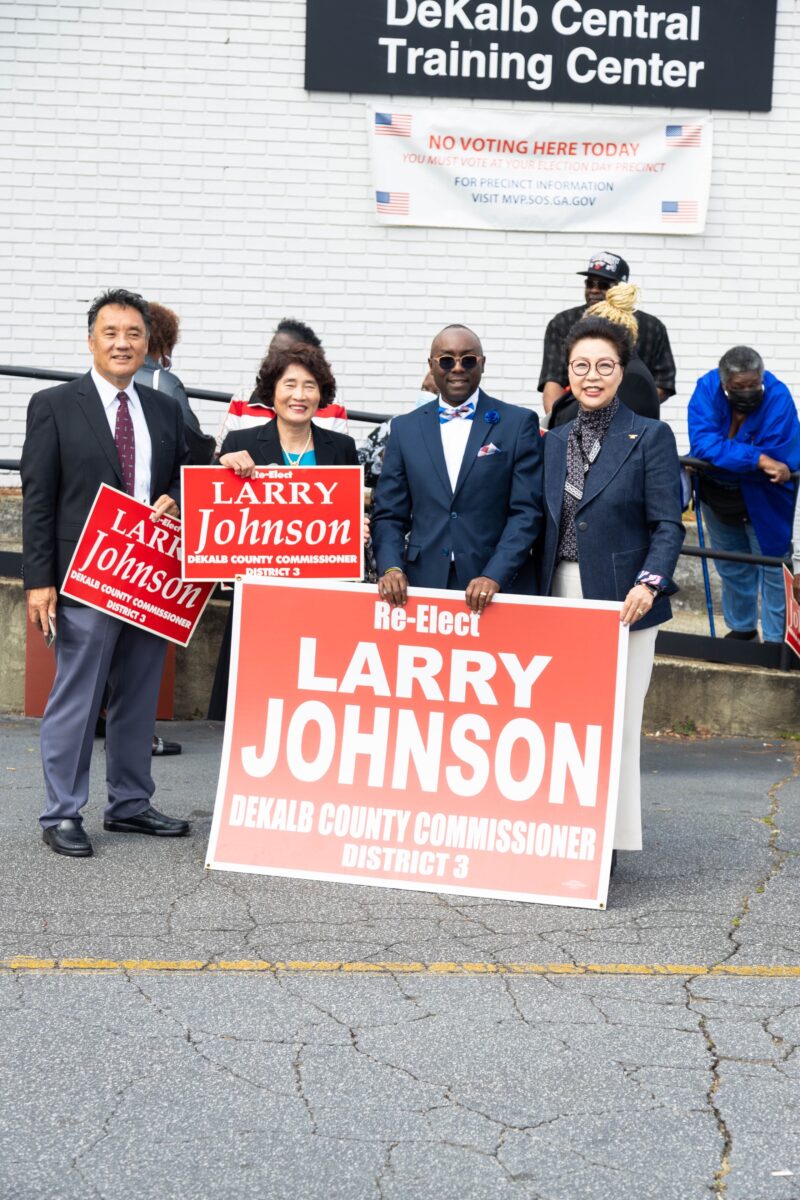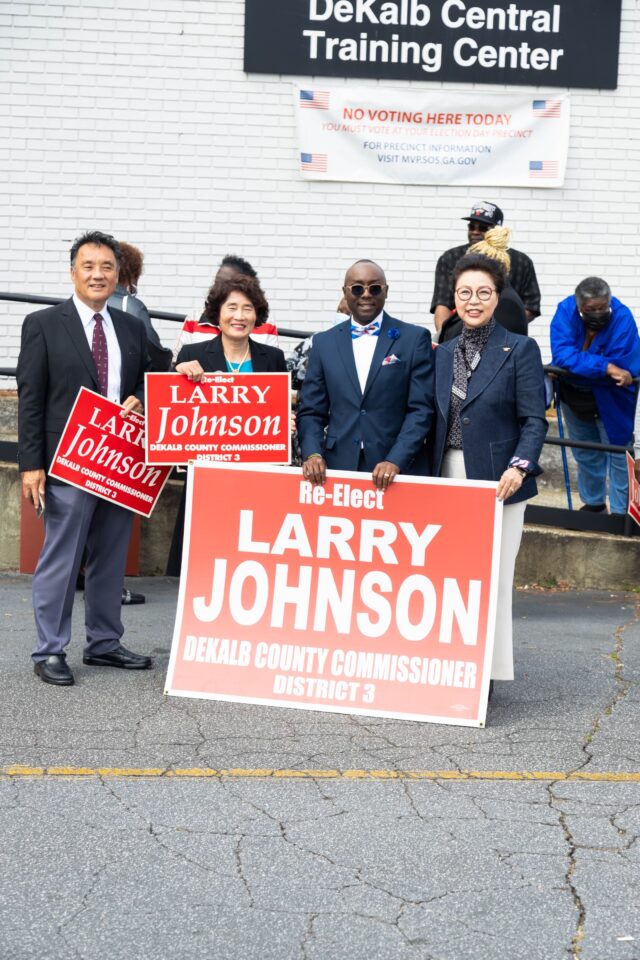 During his tenure, Johnson has served as Presiding Officer for the DeKalb County Commission. He currently serves as Chair of Planning, Economic Development and Community Services Committee.
Johnson has been a member of the National Association of Counties (NACo) since 2005. In 2017, Johnson was appointed as the Chair of NACo's Large Urban County Caucus and In July 2021, Johnson was installed as President of NACo.
Johnson earned his Bachelor's of Science in Community Health from the University of Illinois at Urbana-Champaign and obtained a Master's in Public Health from the University of Northern Colorado. He also served as the first Chair of the Health Disparities Subcommittee of the Health Steering Committee for NACo. Commissioner Johnson has been married for over 30 years and has one daughter.