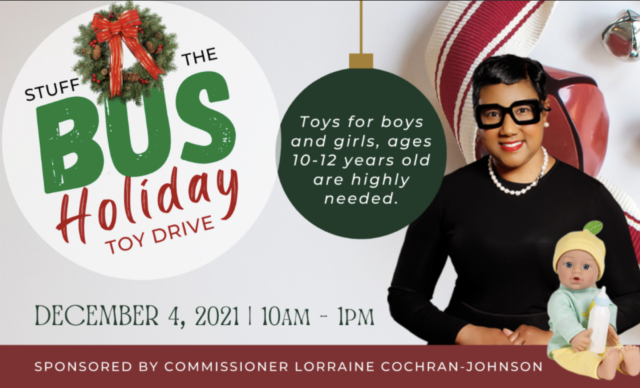 DEKALB COUNTY, GA—On Saturday, Dec. 4, DeKalb County Commissioner Lorraine Cochran-Johnson will host a special event to help bring the joy of Christmas to underserved children during the holidays.
The 2nd Annual Stuff the Bus Holiday Toy Drive will take place 10 a.m. to 1 p.m. in two locations: Northlake Mall, 4800 Briarcliff Rd. NE, Atlanta, and South DeKalb Plaza, 2726-88 Candler Rd, Decatur.
"Many residents have seen a decrease in income due to the spread of COVID-19, yet their economic demands have not changed," Cochran-Johnson said. "By donating new toys, local children can experience the joy of the holiday season and DeKalb residents can provide a sign of hope to parents who may be unable to have the type of Christmas they desire due to economic hardship."
The event is open to anyone wanting to donate new, unwrapped toys. Individuals dropping off supplies are asked to wear a mask and event staff will wear masks and gloves to ensure everyone's safety.
"Our Stuff the Bus School Holiday Toy Drive was a great success last year," Cochran-Johnson said. "DeKalb County residents showed up and donated countless, toys, bikes and gadgets. We are confident many will do the same for our children this year."
Toys for boys and girls ages 10-12 are especially needed, although toys for children of all ages are   welcome. Some suggested items include:
MacGregor Soccer Ball Assortment (size 4)
Disney Collection 6-pc. Grow With Me Musical Walker
Basketball
Unbelievable Science Deep Sea Eruption Kit
Adora Sweet Baby Banana Machine Washable Baby Doll
Bicycle
Football
Jungle Pals Playmat
LEGO Set
Doll Stroller
Coloring Art Table with Paper Scroll
Over-the-Door Basketball Hoop
Art Supplies
All donations collected will be given to the Marine Toys for Tots organization and distributed to local   children in need. A U.S. Marine will be present at the event on behalf of Marine Toys for Tots. To date, the organization has distributed 604 million toys and has supported 272 million children across the United States.