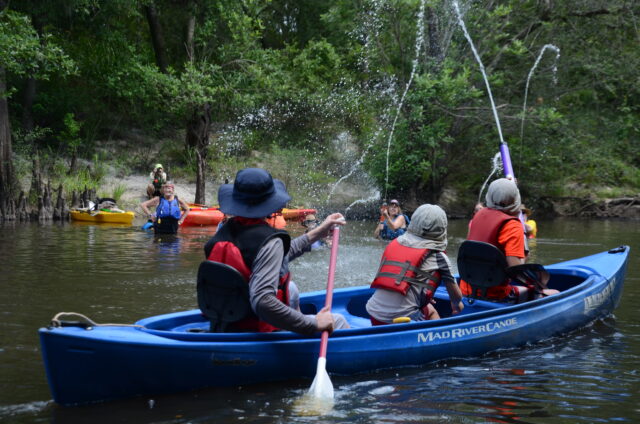 Georgia families looking for a Mother's Day gift on the wild side can treat mom to two days of camping and paddling May 6-8 as Georgia River Network hosts a special adventure on the Yellow and Alcovy Rivers
The statewide river advocacy organization has pegged this Mother's Day weekend of camping and paddling as an adventure geared to families with special programs for youth throughout the event.
"Georgia River Network loves getting families on rivers," said Joe Cook, Paddle Georgia Coordinator. "Electronic devices don't mix well with water, so parents and children alike are assured of each others' undivided attention. Georgia's rivers are a great place to disconnect and reconnect with each other and the beauty that surrounds us."
The two-day canoe/kayak trip will begin with a seven-mile journey on the Yellow River as it winds gently into historic Porterdale and the following day will culminate with a 10-mile adventure down the Alcovy River's numerous gentle shoals as it descends to Newton County's Factory Shoals Park.
Camping will be at historic Salem Campground near Covington where participants will have the option of tent camping or staying in the campground's rustic circa-1940 hotel. The event will feature catered meals, educational programs about the rivers, crafts and on-river activities for youth and tours of the interdenominational camp meeting grounds which was founded in 1828.
Due to the ongoing COVID-19 pandemic, registration is limited to 30 people and Centers for Disease Control social distancing guidelines will be followed throughout the event. Registration fees are $360 for adults and $220 for youths 17 and under. Additional information and registration is available at www.garivers.org/events/yellow-alcovy.