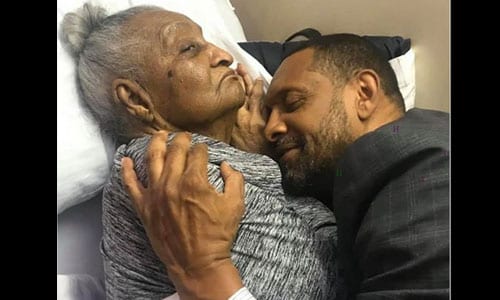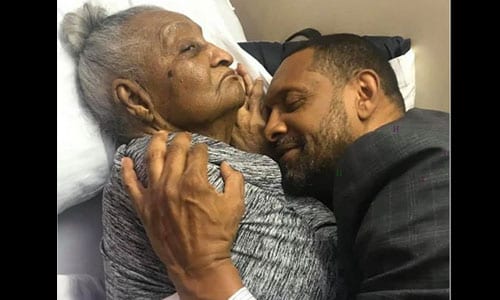 Pictured: Vernon Jones and "Ma" in a January 2020 Facebook post
The mother of Georgia State Rep. Vernon Jones passed away today. Rufer Jones was blessed to be 90 years old.
Jones told On Common Ground News that he was at her beside when she made her transition.
"She looked so pretty. Her hair was all laid back. She looked really peaceful," Jones said.
Jones was filled with emotion as he spoke of his "Ma," recalling her tenacity in working their family farm in North Carolina, her ability to take a little something and turn it into wonderful meals and her wit and wisdom.
Ma raised five sons and a daughter. Her oldest son died about six months ago, but she had no idea. Jones said he and his siblings couldn't bear telling her because they knew how it would hurt her.
Ma lived in a local nursing home and Vernon visited her often, making each visit special. He often posted pictures and videos of their time together on Facebook.
Jones said he and his siblings could not visit Ma together this evening due to social distancing mandates and COVID-19. They decided he, the fifth of her six children, could go first.
"It lifted my spirits when I walked in the room. I couldn't help but think about all of the things that she did for us," Jones said. "I walked out filled with joy."