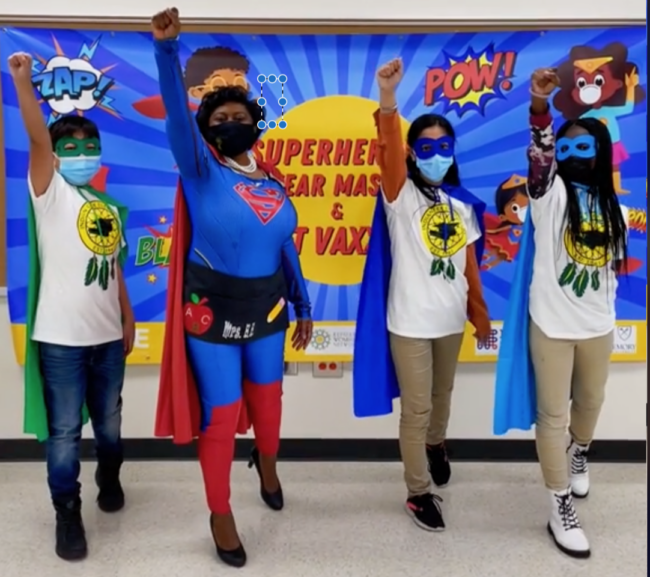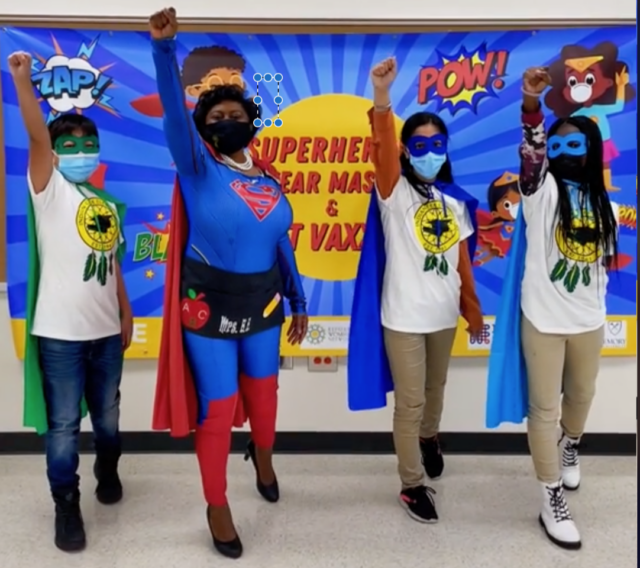 DEKALB COUNTY, GA— On Saturday, Feb. 5, 8:30 a.m. – 12:30 p.m., at Indian Creek Elementary school in Clarkston, GA, over 300 kids and their family members will line up to become "Superheroes" by getting their COVID vaccines. Everyone getting a first, secondor booster shot ages 5 and up will get a $100 cash card. Students and staff are encouraged to bring their entire family to get vaccinated. It's a groundbreaking and unique collaborative pilot program DeKalb County is rolling out with community partners that focuses on schools in low vaccination areas.
"We want DeKalb to be the most vaccinated county in the state, and the best and easiest way to get lifesaving shots to kids and their families is showing up at a place they know and trust – their school," said DeKalb County Commissioner Ted Terry.
The pilot program will be offered at select schools on Saturday mornings or after school from 2 to 6 p.m. to make it easier for families to get a shot when picking up their child. Vaccine events are for students, staff and family members of the school only.
"We know $100 incentives make a real difference for our families and can help insure that if you get sick after getting your shot, and you miss a day of work or don't have childcare –  that extra money in your pocket can lessen the anxiety about getting vaccinated," said Indian Creek Elementary Principal Stephanie Brown-Bryant.
The event will have a "Be a Superhero, Get Vaxxed" theme with games offered while students  are waiting to get vaccinated. Principals and teachers will be dressed in superhero outfits and goodie bags with comic books, masks, crayons, pins and stickers will be given to every child who gets a shot.
Organizers, teachers and students made fun TikTok videos to build excitement in the school. (Check out Principal Brown-Bryant in her superhero suit and high heels!)
Indian Creek Elementary is a diverse school with students who come from more than 40 countries around the world bringing with them 45 different languages and dialects along with their rich cultures. 875 students attend daily, making it one of the largest elementary schools in DeKalb County.
The school vaccination program is a first of its kind effort led by the Clarkston Coalition for Health and Vaccine Access, a group of over 30 community organizations including Refugee Women's Network, Georgia State University Prevention Research Center, Clarkston Community Health Center, and IRC (International Rescue Committee) and Interfaith Youth Core. These organizations approached DeKalb County Schools and the DeKalb County Board of Health to propose the pilot vaccine program in schools. CORE (Community Organized Relief Effort) provides the vaccinations and DeKalb County and the nonprofit, Steed Society, supply the incentives and support.
"We want to ensure families and communities are confident in the vaccine by providing community-led, family friendly events at their most trusted institutions, their schools. Our community health promoters are here to answer questions and provide cultural and linguistic support that meets families where they are and helps dispel myths and misinformation.," said Temple Moore of the Refugee Women's Network.
A second event will be planned one month later at each school participating in the pilot program so students can get their second shot. $100 incentives will be given at the second event as well.
Since June 2021, DeKalb County and community partner organizations have held multiple events and vaccinated and incentivized thousands in low-vax areas. "It's 100% clear that our efforts are truly working," said Mary Helen O'Connor of the GSU-PRC, "The statistics show that the Clarkston community is outpacing vaccination rates compared to other similarly vulnerable communities in the county." 

According to the Georgia Department of Public Health, as of Feb. 1, 57% percent of DeKalb County residents are fully vaccinated and 63% have at least one dose. 24% have gotten a booster. For children, the number of first doses are: ages 5-9:  24%, ages 10-14:  50% and ages 15-19:  67%.
"We're on our way to getting a majority of kids in DeKalb County fully vaccinated, but we've got to keep going and not slow down." said DeKalb County Commissioner Jeff Rader.