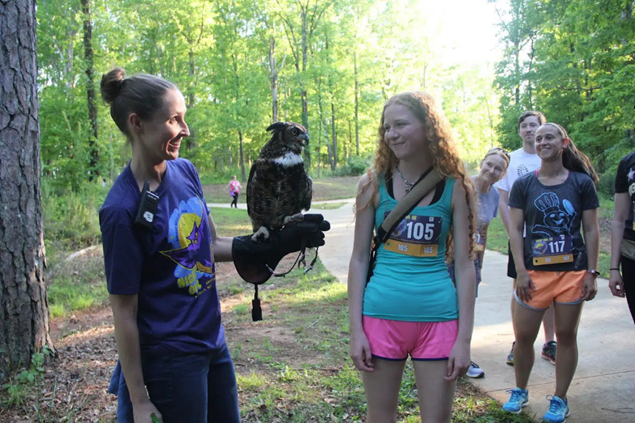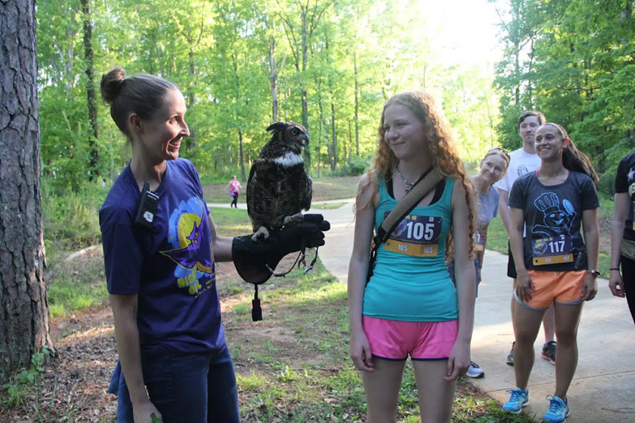 STOCKBRIDGE, GA– The Atlanta Wild Animal Rescue Effort's (AWARE's) 5K Run/Walk fundraiser returns on May 7, taking place at Panola Mountain State Park. A virtual option is also available.
Funds from the Night Owl 5K go to support AWARE's work with native wildlife rehabilitation, conservation and education throughout the year. This event is sponsored by the Rebecca Kay Sapp Law Firm.
Event prizes include medals for the top three finishers in each time group, as well as T-shirts and goodie bags for participants.
"There's no other event where you can walk, jog, or run through a Piedmont forest with owls, hawks, and opossums along the trailside to cheer you on," said Scott Lange, AWARE's Executive Director.
Located at the base of Arabia Mountain, AWARE has been rehabilitating Georgia's injured and orphaned native wildlife for over 20 years. Their small facility hosts veterinary care for a variety of animals brought in by people from across the Atlanta region, as well as permanent housing for animals that, due to health reasons, cannot be released back into the wild. AWARE works with other nature centers across the Southeast to ensure that wild animals have a good home and are well taken care of. AWARE also educates the public about living alongside nature and how to coexist peacefully with our wild neighbors.
"AWARE's work is critical in the National Heritage Area and beyond, helping native wildlife in an increasingly urbanized world and educating people about the incredible animals that live alongside us," said Arabia Mountain Heritage Area Alliance Executive Director Revonda Cosby. "Join the Night Owl 5K, support a good cause, and have fun at Panola Mountain State Park."
More information and registration are available at www.awarewildlife.org/nightowl5k.