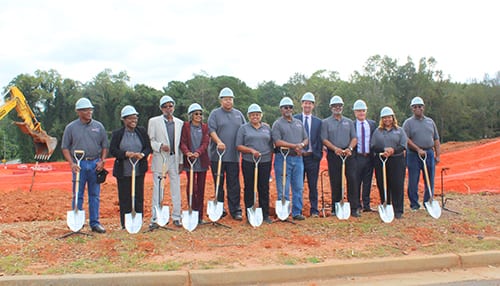 By Mackenzie N. Morgan
Senior citizens seeking affordable housing can look forward to a new development that is under way at The Greater Piney Grove Baptist Church campus located at 1879 Glenwood Ave. in East Atlanta. The three-story complex is expected to be completed by January in 2020 officials said. 
The Greater Piney Grove Church and community leaders held a groundbreaking ceremony on Oct. 19 for the Gardens at East Lake. The independent living complex will offer 70 one- and two-bedrooms apartments to those ages 55 and older. As a tax credit apartment complex, a portion of the units will be available to low-income seniors.    
Pastor William E. Flippin, Sr., senior pastor of The Greater Piney Grove Baptist Church, said he is excited about the project. 
  "It's a vision that has come to pass after 20 years," said Flippin. "It will enhance our campus and transform the Terry Mill community through a number of community partnerships."
Chanti Harris, executive director of the nonprofit,  The Grove Community Development Corp., Inc., said the apartment complex is the catalyst for a five-year plan to revitalize the Terry Mill community and includes not only the senior housing project but plans to secure funding for the rehabilitation of single-family homes in Terry Mill community. The church's nonprofit has formed partnerships with several organization and will eventually provide grant opportunities for other organizations that would like to improve Terry Mill, Harris said. 
"We're not just constructing a building. We are transforming a community. We're considered a community quarterback," Harris said.  
Fairway Construction, Inc. is building the project in partnership with the U.S. Department of Community Affairs, Georgia Communities, Inc., DeKalb County, Affordable Equity Partners, Martin Riley Associates, Metro Atlanta Urban Farm and Alonzo Crim High School. 
Through the partnerships, an urban farm will be established to provide fresh produce and cooking demonstrations to seniors and the surrounding communities. The partnerships also will provide apprenticeships and internships to Alonzo Crim High School students. 
"The students in the high school's culinary arts and agricultural programs will be able to participate in the urban farming program and students in the architectural department will be able to gain hands-on experience by studying the building plans and working along side our builders learning things like cementing and installing wires," said Harris. 
Harris said the church's nonprofit plans to work closely with JENCare Senior Medical Center and community groups that seek to improve Terry Mill. As part of the effort, we will be securing funding for the rehabilitation of single-family homes,               
Congressman Hank Johnson, DeKalb CEO Michael Thurmond, DeKalb County Commissioner Larry Johnson, former DeKalb CEO Liane Levetan, and Atlanta Councilwoman Natalyn Archibong were among the dignitaries who participated in the ceremonial groundbreaking.