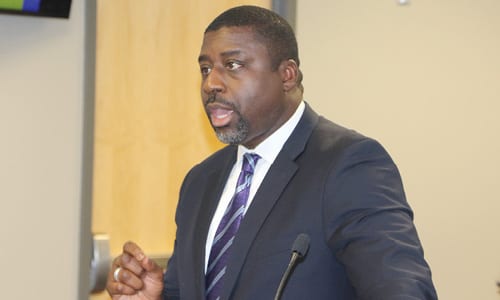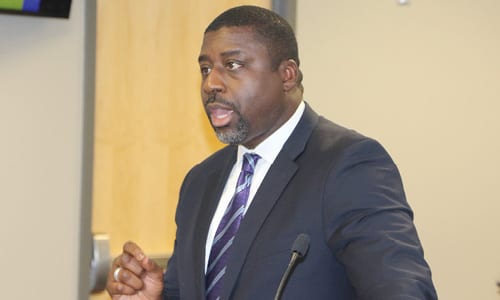 This story has been updated
Grice Consulting Group presented its qualifications to perform SPLOST work at the city of Stonecrest's Oct. 3 work session, giving the public its first opportunity to hear in detail the firm's qualifications and contract proposal. Only Councilmembers George Turner, Jimmy Clanton and Mayor Jason Lary were in attendance for the presentation. The other three council members said they had more pressing matters.
John Funny, president of Grice Consulting, said his company has performed program management and transportation planning services for hundreds of projects throughout the U.S. including the city of Atlanta, Charleston, SC; Charlotte, NC; Chattanooga, TN; Virginia Beach; Washington, D.C; Los Angeles, CA; Houston, TX; and Miami, FL; to name a few.
Funny said he founded Grice Consulting Group in 1995. Grice became an LLC in 2010, according to the Georgia Secretary of State's web site. Grice said he reformulated the company as an LLC in order to expand and do international business.
During the presentation, Funny was accompanied by members of his team and his attorney, Bruce P. Brown,. Three members of the city council vanished before he spoke.  Councilwoman Jazzmin Cobble said she had to get to work.  Councilwoman Diane Adoma said she had another commitment. Councilman Rob Turner said his wife was having surgery. The entire council was present for its regular meeting, which preceded the work session and lasted from 9 a.m. until around noon.   
The absences frustrated City Councilman Jimmy Clanton, who said he could certainly understand  Councilman Rob Turner needing to leave due to his wife's surgery. Clanton said, however, there was no excuse for the other council members' absence. 
"They were not interested in hearing a presentation because they have already made up their minds that they are going to support the contract. That's why they got up and walked out," said Clanton. "What they have done is unethical. They have done the city an injustice."
The infighting among council members has persisted for months. The drama came to a head last month as Councilwoman Cobble made motions to rearrange the agendas at both, the work session and City Council meeting, halting actions on the city's SPLOST work.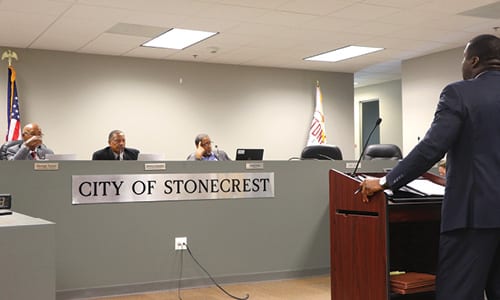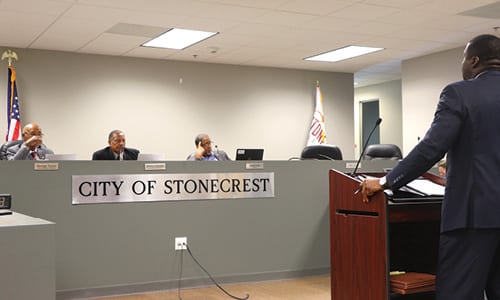 Negotiations with Grice have been in limbo since last year when Grice invoiced the city a total of $162,000 from September through November 2017. Mayor Jason Lary, City Manager Michael Harris and other administrators questioned what they called "high costs" and the city ended up negotiating a $40,000 payment with Grice.
Funny said during his presentation at the council's work session that he had submitted his company's qualifications, scope of work and proposed fee schedules to the city on Aug. 16, 2017. Grice began pre-SPLOST work a month later. The relationship deteriorated shortly after Grice's invoices were submitted.
In May 2018, four members of the city council ordered city administrators and City Attorney Thomas Kurrie to resume negotiations with Grice after learning the city and Grice were at odds over the invoices.
Councilman George Turner said at the recent work session that he believed the city had an obligation to "act in good faith" to work with Grice because the council unanimously voted last year to award the contract to Grice. But Mayor Lary disagreed, saying the city did not award a contract and he reiterated his position that the city had no such obligation to Grice.  
 "We're not obligated to do anything but to take care of the needs of the city of Stonecrest…What I care about is getting the best bang for our buck," said Lary.
City officials noted that while Grice had adjusted its scope of work and fees for the 6-year SPLOST management proposal by $886,000 to approximately $2.8 million, Grice's fees were higher than the 2 to 5 percent that other companies were charging. 
"Grice Consulting is proposing a fee of $2.799 million which is approximately 7% of all anticipated SPLOST transportation-related revenues for the City of Stonecrest, which is still much higher than the rate charged by most competitors," the city stated in a three-page report dated Sept. 24, 2018.  
City Manager Michael Harris said that negotiations with Grice would continue. 
"I think we've made substantial strides… We're far, far, closer…," Harris said. "We've received additional information (today) and we'll need to take into consideration in moving forward."
Harris recommended the city pursue an RFQ/RFP, according to the city's purchasing policy.  But he said t the city would likely look at requesting a Request for Qualifications rather than a Request for Proposal. He said either way, Grice would have the opportunity to put its name in the hat, along with other companies.