LAWRENCEVILLE, GA– Gwinnett Tax Commissioner Tiffany P. Porter, Esquire, passed away peacefully today surrounded by family, friends and loved ones. She died after twice battling breast cancer, officials said.
Porter, 43, is the devoted mother of four children, Tori, 15, Zoe, 17, Nia, 20, and Brandon, 23. She was known for achieving many firsts in her life. She was also known for surviving multiple hard-fought battles against breast cancer, to which in the end she ultimately succumbed.
During her 16 months as Tax Commissioner, Ms. Porter implemented a number of service advancements for Gwinnett citizens, including the ability to set appointments at any office and skip the wait. She also made workplace improvements for her 160-member staff, who appreciated her intelligent, fun-loving and decisive leadership.
In addition to being the first in her family to obtain a college degree, a law degree and pass the bar, in winning the 2020 election she became the first African American Tax Commissioner in Gwinnett County's history. Prior to that, she was the first African American judge in the Duluth Municipal Court. For four years she was a regular guest legal analyst on Court TV and had previously founded two private-practice law firms.
"Ms. Porter overcame many obstacles to achieve the ambitious goals she set for herself," Chief Deputy Denise Mitchell said. "I will always remember her as a strong, resilient, brilliant spirit, and all the joy she brought to us. We will miss her."
For more than 20 years, Ms. Porter resided in Gwinnett County, attended Life Church International in Duluth and was a dedicated member of the Alpha Kappa Alpha Sorority.
The Tax Commissioner offices will close to allow associates to pay their respects. Chief Deputy Tax Commissioner Denise R. Mitchell, MPA, will assume duties of the office. 
As the law dictates, Mitchell will execute the duties of the office until being sworn in to complete the remainder of Ms. Porter's term through Dec. 31, 2024. Offices will be closed on the day of Ms. Porter's service to pay respects, which will be announced when arrangements are made. Other than service details, no other information will be shared.
Board of Commissioners Chairwoman Nicole Hendrickson issued  the following statement regarding Porter's passing:
"On behalf of all of us at Gwinnett County Government, I send sincere condolences to the Tiffany's family, friends and coworkers. We are all saddened by this loss."
Other elected officials also offered their condolences:
"The Gwinnett County family mourns with the family and friends of Ms. Porter on her loss. Our hearts, our thoughts and our prayers are with them at this difficult time," said BOC Vice Chair and District 3 Commissioner Jasper Watkins.
"The passing of a loved one is never easy. May Tiffany rest in peace and her children know she's now their angel watching over them and guiding them along the way," said District 1 Commissioner Kirkland Carden.
"Tiffany exuded an internal confidence and a matchless grit. I want her family and friends to know they don't have to walk this journey alone. An entire County is behind them, supporting them and wishing them the best on this journey," said District 2 Commissioner Ben Ku.
"Gwinnett County Tax Commissioner Tiffany Porter was a friend, colleague, community leader, my Alpha Kappa Alpha Sorority sister, trail blazer and innovator.
She soared in achieving her life's milestones. My deepest prayers and heartfelt condolences go to Tiffany's children, family, friends and dedicated county employees," said District 4 Commissioner Marlene Fosque.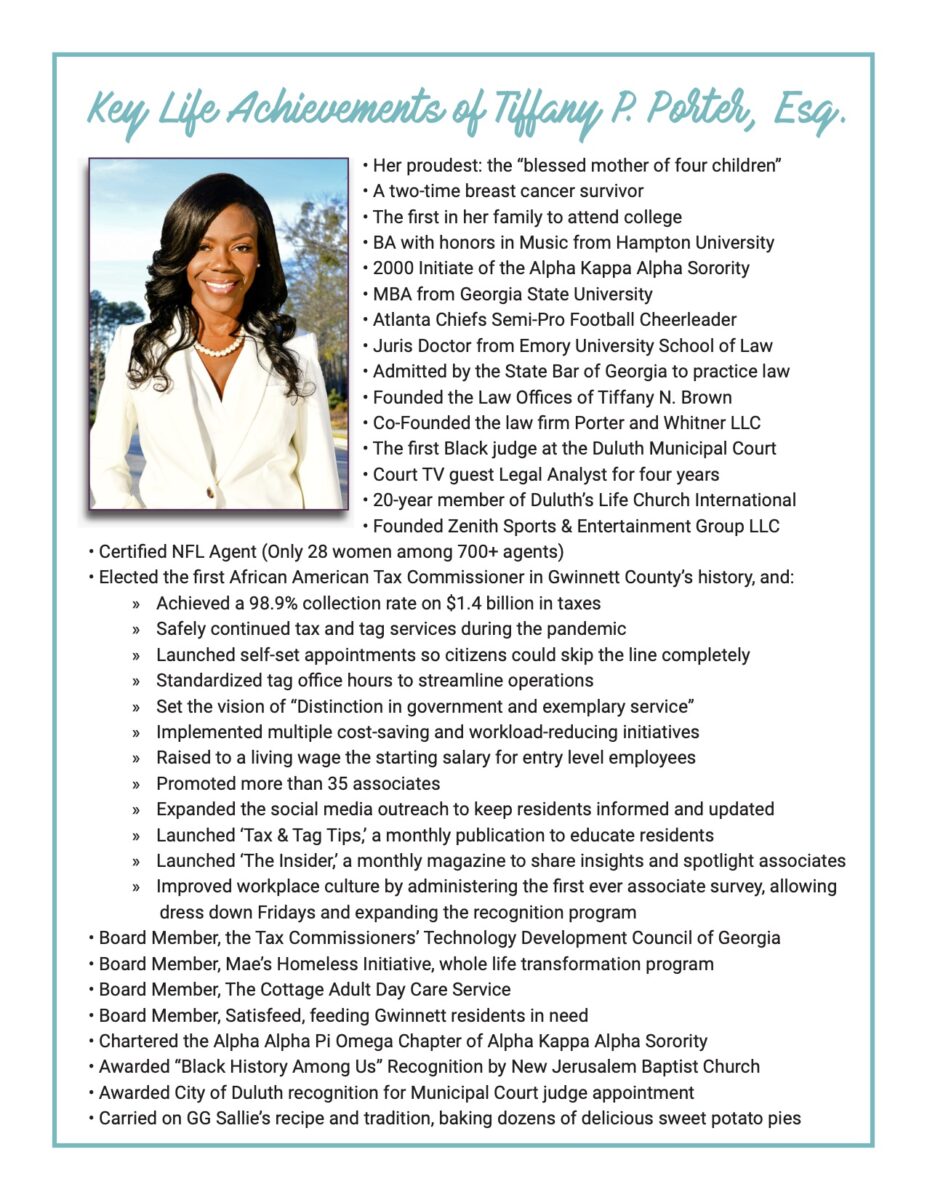 For more click here.