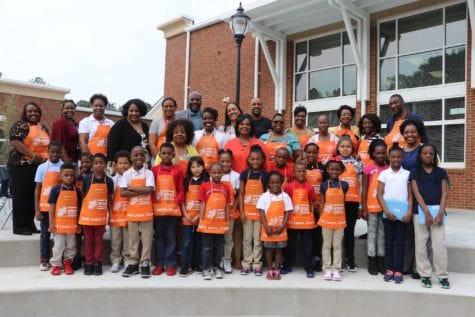 Students at DeKalb County's Barack H. Obama Magnet School of Technology, formerly known as Clifton Elementary, donned orange aprons to work on a special project just ahead of Easter. Home Depot provided the aprons and Do-It-Yourself Easter basket kits as part of the launch of the new school's Beautification Club.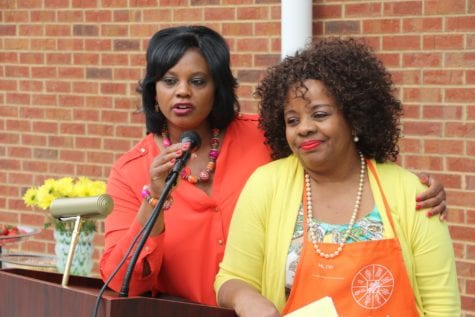 Dr. Betty Mayfield, who founded the Beautification Club, said the project is one of many she is looking forward to as she helps students learn what it means to take ownership of their school and live up to the name of the school, which honors President Barack Obama, the first African American President of the U.S.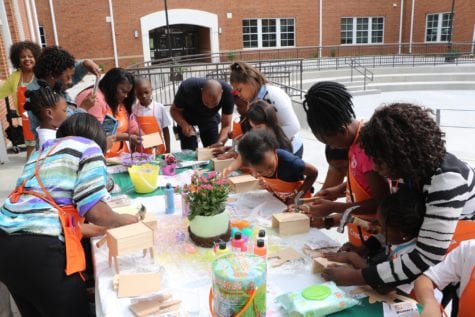 "We want our school grounds to remain beautiful. We want the students to share in that pride and learn how to keep our school beautiful, while learning about green space, the environment and the science of how soil works and how things grow," said Mayfield, who teaches kindergarten and first grade. She assisted Principal Angela Thomas Bethea and Assistant Principals Pamela Wooley and Winfred Watts in launching the beautification ceremony on April 12.
In addition to the Wesley Chapel Road Home Depot in Decatur, Mayfield thanked other sponsors who made the beautification ceremony a success: Kroger, Wal-Mart, and Intown Ace Hardware in Decatur pitched in respectively to provide refreshments, a huge Easter Lilly for the school's atrium, garden benches and planters for the project.
The school's Beautification Club is open to all students and Mayfield said the club plans to collaborate with 4-H members to work on projects.