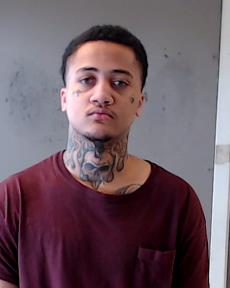 DECATUR, GA—DeKalb County District Attorney Sherry Boston announced a conviction by jury trial in the murder case against a Lithonia man accused of killing his teen girlfriend then burying her body in a relative's backyard. 
Aldeyshaun Locklear, 20, 
was sentenced to a term of life in prison by DeKalb County Superior Court Judge Courtney Johnson, who presided over the trial.
Jurors returned guilty verdicts on May 20, 2022, against Locklear on charges of Felony Murder, Aggravated Assault by Strangulation, and Concealing the Death of Another in connection with the strangulation death of Te'a Choates, 19.
Choates was reported missing on Aug 10, 2019 by her grandmother. Choates and Locklear lived with the grandmother at her Lithonia home. According to the missing person's report, the victim had not been seen or heard from in four days. Detectives canvassed the neighborhood and searched the victim's social media accounts looking for signs of her whereabouts, to no avail. Authorities then received an anonymous tip that the victim's boyfriend was responsible for her death. During her disappearance, Locklear had returned to his parents' home, telling them Choates had left the house with friends.
When questioned by police, Locklear initially denied knowing anything about his girlfriend being missing. He later changed his story and said that the two got into an argument and the victim pulled a knife on him, according to investigators. He said he then shoved her, causing her to hit her head on the bathtub. Locklear claimed he tried to "wake her up" and attempted CPR when the victim stopped breathing. He says he then placed Choates in a white cover and buried her in a wooded area behind her grandmother's house. After leading detectives to the shallow grave, which he had covered with sticks and debris, Locklear confessed to strangling the victim, causing her death, authorities said. According to the investigation, the two had a volatile relationship marked with physical abuse against the victim in the months leading up to her death.
The case was prosecuted by Deputy Chief Assistant District Attorney Joanna Helsby, who leads the Domestic Violence/Sexual Assault Unit, with assistance from Senior ADA Garrett Emmons, Supervising DA Investigator Sam Washington, and Victim Advocate Shelbie Rainwater. Detective J.D. Paden of the DeKalb County Police Department led the initial investigation.