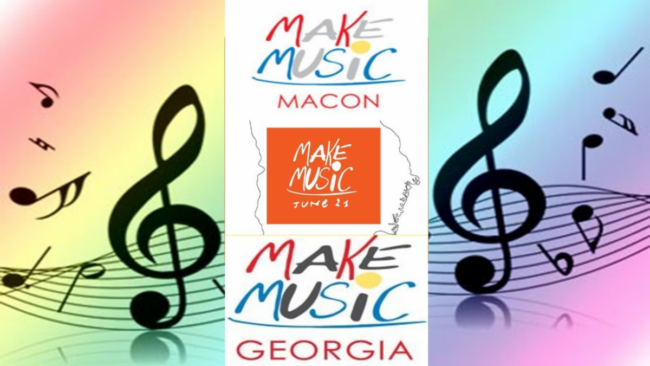 Late Congressman John Lewis to be honored, event will be live-streamed on FB  
MACON, GA—The city's downtown will be filled with music as the Macon Make Music Day International Celebration beckons locals and visitors alike to Cherry Street on June 21.
The daylong,, family-freindly festival, which features free pop-up performances on downtown city corners, in parks and restaurants, runs 9 a.m. until 6:30 p.m. COVID-19 protocols will be in place. Those who can't make it to the in person event can join the Macon Make Music festivities virtually via Facebook.
Held annually on June 21 to coincide with the summer solstice, Macon Make Music Day is part of the international Fête de la Music Festival taking place in more than 1,000 cities across 120 countries.
A bikers' parade kicks off Macon's festivities at 9 a.m. at the Macon Terminal Station on 4th Street and will travel around the downtown area.
The 567 Sidewalk Lunch Time Jam performances, 11:45 a.m. to 1:45 p.m., will be at 456 First Street.
Head to Rosa Park Square, where you'll find a variety of pop-up artists performing from noon to 4 p.m. Free kazoos and drumsticks will be given away around lunchtime so that you and the kids can make some music of your own.
In addition to music at Rosa Park Square, entertainment will be offered at Newtown Macon, 555 Poplar St.; and Grants Lounge, 576 Poplar St.
A private reception honoring the late Congressman John Lewis will be held 5 to 6:30 p.m. and will be livestreamed via Macon Make Music's FB page.
The Macon festival is presented by the NAMM Foundation and the nonprofit, Make Music Alliance. 
For more information, Visit http://www.makemusicday.org/macon  and makemusicday.org.