ATHENS, GA—This fall, the University of Georgia (UGA) is opening a new residence hall named for the first African-American students to enroll as freshman and graduate from the university.
UGA has named the new building the Black-Diallo-Miller Hall in honor of Harold Alonza Black; Mary Blackwell Diallo; and Kerry Rushin Miller. The three African-American students courageously integrated the university in the1960s as freshmen and went on to earn their undergraduate degrees from UGA during one of the tumultuous times in the history of the nation. This fall marks the 60th anniversary of the year that the three enrolled as freshmen.
UGA held a dedication ceremony on Aug. 4 to celebrate the new $50 million, six-story residence hall, which will house 525 freshmen students in double occupancy rooms. The project, which began in December 2020, is UGA's first new residence hall since 2013.
UGA President Jere W. Morehead praised Black, Dialo and Miller for their perseverance and the significant contributions to society throughout their careers.
"The naming of this building is our way of ensuring that their stories are now forever a part of our institution's history," Morehead said at the dedication ceremony.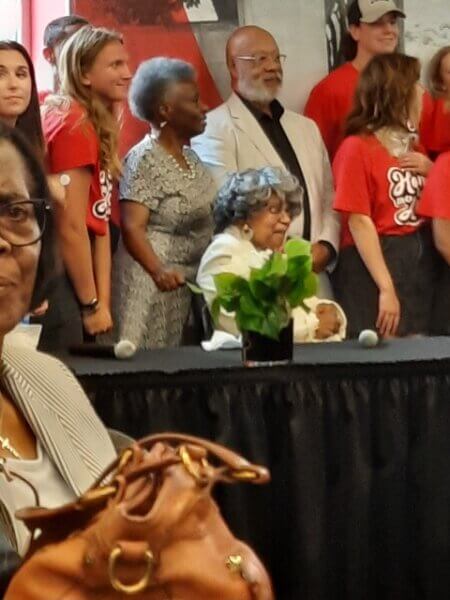 Pictured are honorees Mary Black Diallo (gray dress); Harold Alonzo Black; and Kerri Rushin Miller(seated). Photo by Stonecrest resident Gwen Russell Green, who attended the Aug. 4 dedication in support of her friend and honoree,  Mary Blackwell Diallo.
Black was the first African American graduate of UGA's Terry College of Business, which established the Dr. Harold A. Black Professorship in his honor. Black went on to earn his master's and doctoral degrees from the Ohio State University.  He retired as professor emeritus of the University of Tennessee Knoxville after 24 years of service as the James F. Smith, Jr. Professor of Finance, according to UGA's website.
Black served on the faculties of American University, Howard University, University of North Carolina and the University of Florida. Black received numerous awards throughout his distinguished career including honors from the U.S. Department of Treasury, National Credit Union and the National Urban League.
Diallo was among the first blacks who lived and grew up in Athens to be accepted into UGA and matriculate there. She earned bachelor's and master's degrees in French literature from UGA and a doctorate from Emory University, her bio on UGA's web site states.  She taught at Morehouse College and at Florida A&M University (FAMU), from which she retired in 2021, according to UGA. She was a contract interpreter for the U.S. Department of State and participated in Fulbright Exchange Teacher Fellowships in Benin and France.
Miller was the first African American to earn a bachelor's degree in mathematics from UGA in 1966, the university stated. She had an extensive career in the telecommunications industry, retiring from BellSouth after 29 years of distinguished service. Miller was primarily was based in Charlotte, NC, where she participated in Leadership Charlotte, and was a member of the Urban League of Central Carolinas, Inc., and the Charlotte Club of the National Association of Negro Business and Professional Women's Clubs (NANBPWC).
Portraits of   Black, Diallo and Miller are on display in the lobby of UGA's new residence hall. In addition to dormitory rooms with built-in closets and enhanced community bathrooms, the new building will provide freshmen students a shared lounge and study areas.