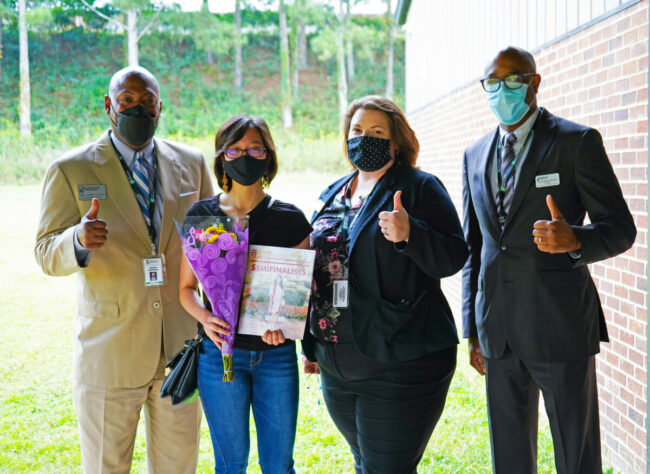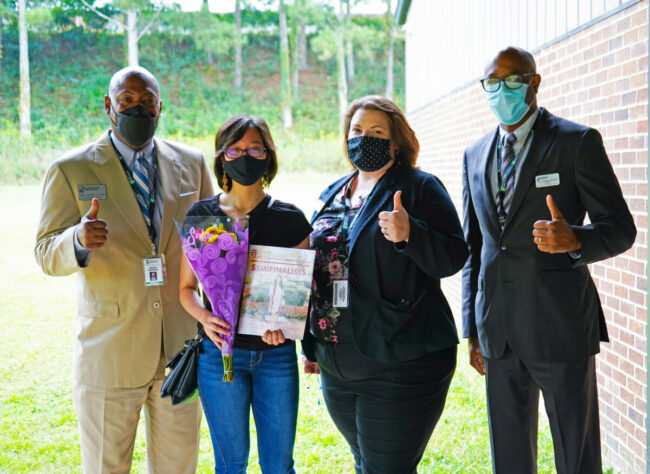 Pictured left to right: RCPS Superintendent  Terry Oatts, RMSST/RCHS senior and 2022 National Merit Scholarship semifinalist Laura Goldgar, RMSST Director Amanda Baskett, RCHS Principal Eldridge Powell
Rockdale County Public Schools congratulates Laura Goldgar, a Rockdale Magnet School of Science and Technology (RMSST) / Rockdale County High School (RCHS) senior distinguished as a Semifinalist in the 2022 National Merit Scholarship Program. Semifinalists represent less than one percent of high school seniors and are the highest scoring students in their state on the PSAT. This year's semifinalists entered the program by taking the PSAT in 2020 as high school juniors.
RMSST Director Amanda Baskett said, "Laura is a focused student who is to be commended for both her academic and extracurricular accomplishments. She is respected as a scholar by both teachers and peers. She is always finding new ways to grow personally and seeks opportunities to help others. I am delighted that she has been recognized by National Merit as a semifinalist and look forward to her representing our school well as the competition advances."
Goldgar said she was excited and a bit surprised to learn she had been named a semifinalist.
"It is a great opportunity for me in the scholarship process," she said. "I am happy that my hard work is paying off a little bit," Goldgar said.
Goldgar said she would advise younger students to focus on the process rather than the score.
"When you try to push yourself to achieve a number then you might not get what you want. Instead focus on the process of learning and practice using your resources," said Goldgar said. "I practiced using the preparation books and Khan Academy practice tests. My English class also really helped with designated time to practice PSAT problems, so I knew the format better. Learning the format helped me handle how to solve the problems better."
Goldgar attended Lorraine Elementary School and Gen. Ray Davis Middle school prior to Rockdale Magnet School for Science and Technology and Rockdale County High School. She plans to major in Chemical Engineering and is applying to Georgia Institute of Technology, Massachusetts Institute of Technology, California Institute of Technology, and the University of Georgia. She is a student leader on campus serving as President of the Magnet Association of Artists, Lieutenant for Magnet Math Team, Captain of the RCHS Swim Team, and on executive council for Magnet Ambassadors. She also participates in Green Team and the Robotics, Engineering, and Computer Science Team.