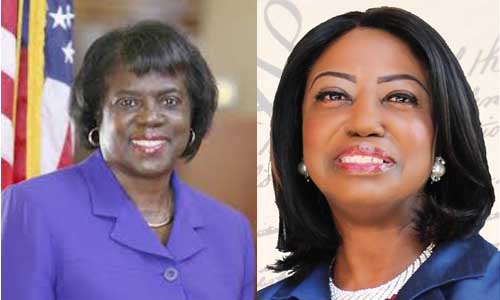 Pictured (L-R): Incumbent Pam Dickerson and challenger Sharon Henderson
ROCKDALE COUNTY SPECIAL MEETING, JUNE 17, 2020, 9:30AM 
PUBLIC INVITED TO ATTEND  
The Rockdale County Board of Elections will hold a Special Meeting on Wednesday, June 17, 2020 at 9:30 a.m., for the purpose of certifying the results of the General Primary/Nonpartisan/Special and Presidential Primary Elections and to consider a recount request for House District 113.
Incumbent Pam Dickerson and challenger Sharon Henderson are vying for the House District 113 seat.
Henderson received 5,689 votes (50.70%), while Dickerson received 5,531 votes (49.30%), according to unofficial results as of June 15.
The meeting is scheduled as follows:
WHEN:            Wednesday, June 17, 2020
TIME:               9:30am
WHERE:          Rockdale Board of Elections Office
1261 Commercial Drive, SW, Suite B
Conyers, GA 30094
(770) 278-7333