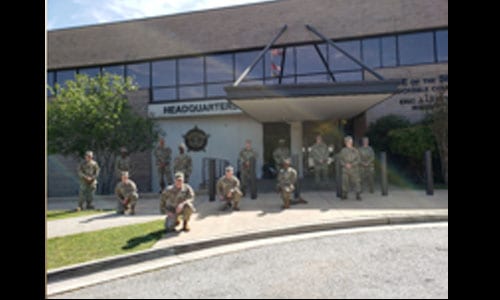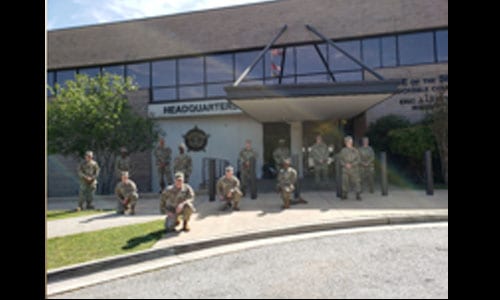 The Rockdale County Sheriff's headquarters got a deep cleaning from top to bottom today (April 10).
Members of the 179th Military Police Company, 170th Military Police Battalion, Georgia Army National Guard, went into action utilizing their COVID-19 sanitation team and equipment to conduct a thorough sanitation procedure at the Rockdale Sheriff's headquarters.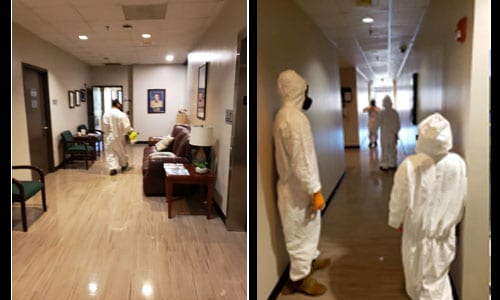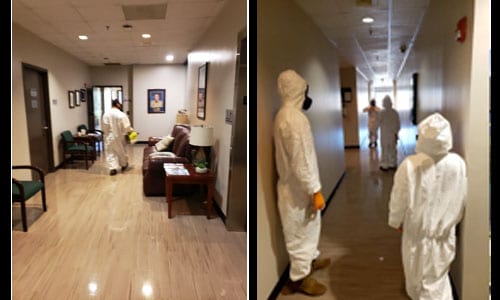 The team, comprised of 13 members lead by Sergeant Jerrod Ulin, spent over three hours sanitizing the three-story, 36,000-square-foot building, Sheriff's spokesman Deputy Lee A. Thomas said.
The deep scrub follows the announcements that three staff members, Sheriff Eric Levett, and inmate tested positive for COVID-19.     
Thomas said in a news release tonight (April 10):
"Sheriff Eric Levett and the entire Rockdale County Sheriff's Office team would like to express our deepest gratitude and thanks to the outstanding men and women of the 179th MP Company their professionalism, technical knowledge, and dedication to the mission. This sanitation procedure has un-doubtfully made the Sheriff's Office a safer work environment for our hard working, frontline responders."gl