By Mark Brock
DCSD Athletics Specialist
DEKALB COUNTY, GA–Southwest DeKalb Panthers gave the home teams a sweep of the Miller Grove Wolverines in Region 6-4A high
school basketball action with a 49-35 victory at Southwest DeKalb on Tuesday night.
Miller Grove's Javon Terrell grabbed an offensive rebound and drove under the goal for a reverse layup to tie the game at 19-19 with 4:53 left in the third quarter. The Wolverines (4-3, 0-1) had battled back from down as much as 12 points in the second quarter.
Southwest DeKalb (3-1, 2-0) responded as Josh Clemons hit a short jumper in the lane that rolled around the rim twice before falling in to give his team the lead for at 21-19.
Turnovers then proved costly for the Wolverines as an inbounds pass was stolen by Jon Turner for an easy layup. A push off called the Wolverines on the next inbounds play gave Southwest the ball again and Savion Mathis hit one of two free throws to make it 24-19.
A steal by Mathis and pass up the floor to Turner for another easy basket made it 26-19 with 3:24 left in the third quarter.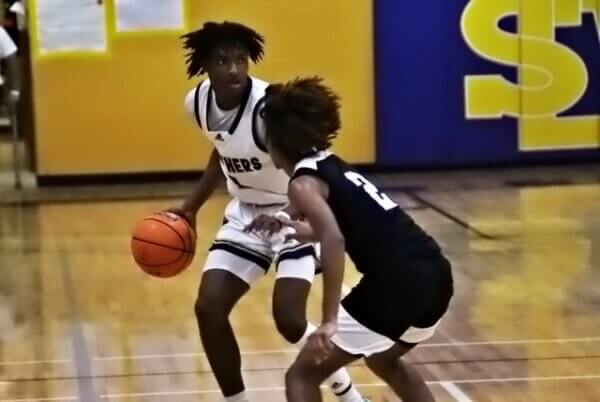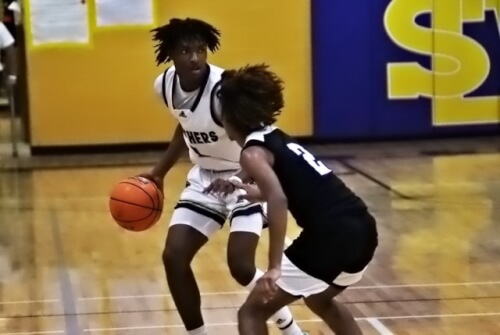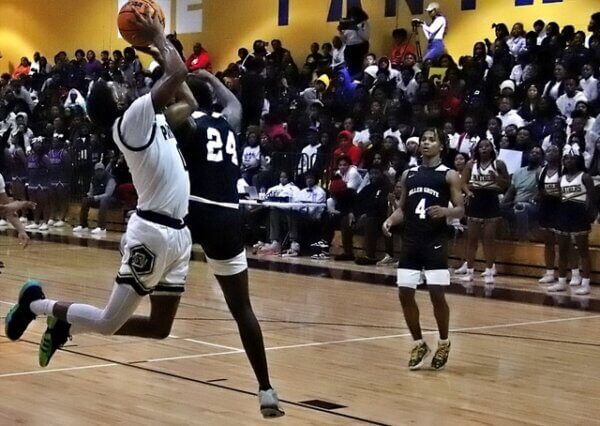 Marion Hopkins completed an old fashioned three-point play on Miller Grove's next possession to trim the lead back to 26-22 only to have Southwest DeKalb end the quarter on a 6-0 run. The run was started by a Clemons' three-pointer followed by two free throws by Isaiah Taylor and another by Mathis to make it 32-22 with one quarter to play.
Clemons hit for six consecutive points in less than a minute span in the fourth quarter including a three-pointer, a layup on an assist from Turner and one of two from the free-throw line to extend the lead to 40-24 with 4:44 remaining on the clock.
Miller Grove ended the game with a 7-2 run on a pair of free throws by Taison Mathis, a basket and free throw by Seydina N'Diaye and a bucket by Xavier Lewis.
A three-pointer by Thomas Glanton to end the first quarter coupled with a basket by Isaiah Taylor to open the second quarter opened a 12-point lead for the Panthers.
Miller Grove's Xavier Lewis hit a three-pointer in the final 1:30 of the first half as the lead was cut to 18-13 going into the break.
Clemons led the Panthers with 16 points. Marion Hopkins had 8 points to lead Miller Grove while Xavier Lewis finished with 7 points and Seydine N'Diaye had 5 points and 9 rebounds.
GIRLS 
SW DeKalb 50, Miller Grove 16 
The Southwest DeKalb Lady Panthers forced 31 turnovers against the Miller Grove Wolverines as they ran to a 50-16 Region 6-4A win in the opener at Southwest DeKalb.
Miller Grove scored first on a free throw by Jalisa Payne-Wright but Southwest DeKalb (2-2, 2-0) would run off 14 consecutive points to take control of the game. Jah'Neasia Spiers hit for four points in a 9-0 run to end the first quarter. The four points included a basket on an assist by Bailee Canty in the final two minutes to send her team into the second quarter up 9-1.
Spiers had an offensive putback and a three-pointer by Janiya McCoy to open the second period with five quick points to push the lead to 14-1 with 6:58 remaining in the half.
Back-to-back three pointers by Londyn Durden and Saniya Rice helped Southwest to a 24-6 lead at the break.
Canty had a three-pointer and a three-point play on back-to-back trips down the court, s 13 second time span, as the lead ballooned to 35-7. She would add a steal and layup with two seconds left in the quarter to make it a 39-10 advantage with the final quarter to play.
Payne-Wright had a three-point play with 1:33 left in third period to get Miller Grove into double digits at 10-37.
Jah'Naesia Spiers finished the game with 13 points to lead Southwest DeKalb and Bailee Canty finished with 10 points. Payne-Wright led Miller Grove with 8 points on the night and Jaylen Clark had 3 points and 17 rebounds.